SEO Strategic Plan
A popular service Wiideman Consulting Group has offered to many prominent brands is our SEO Strategic Plan, a comprehensive audit and strategy for contextual, technical and visibility focal points that may improve search engine visibility. With the right team and following ethical SEO best practices, our recommendations have had a 100 percent client success rate that we are proud of.
What's in Our SEO Strategy?
We offer an exhaustive search engine optimization strategic plan that includes the following:
Competitor Analysis Report (CAR)
Keyword Discovery Report (KDR)
Link Analysis Report (LAR)
Creative (Post-Penguin) Link-Building Strategy
Behavioral (Post-Panda) Content Strategy
Video SEO Campaign Theme Suggestions
Social Media Campaign Theme Suggestions
Strategy Details
Below is a screenshot of a table of contents from one of the SEO Strategic Plans we've written. Topics and focal points will be based on your individual need and may have more emphasis on current technologies and platforms, such as mobile.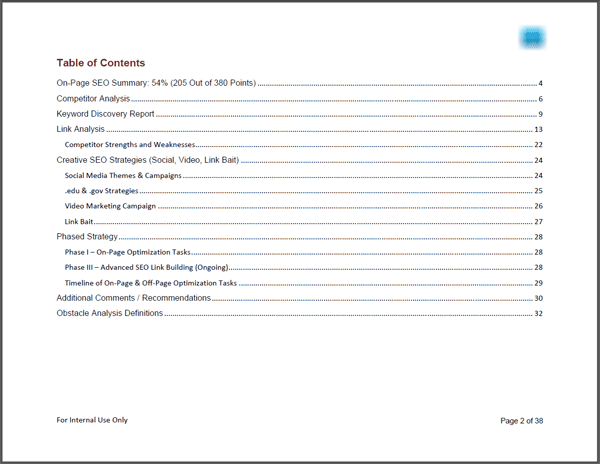 Custom Focal Points Reviewed
We understand that each client's needs are different, and there is no "one size fits all" solution for SEO. When completing your Client Needs Analysis, please be sure to provide as much detail as possible. Our team will host a "Kickoff Call" with you prior to starting our research, so you'll have plenty of time to go over everything with us.
Typical custom SEO research we are asked for includes:
Location or multi-location SEO
Recent loss of rankings
Penalty assessments
Online reputation
E-commerce SEO
Indexing or crawl issues
Get Started Now
Call our office at (562) 732-4417 to ask about current audits and pricing.