SEO Audits (On-Page & Off-Page)
Enterprise and Fortune 500 clients have called on Wiideman Consulting Group for strategic planning for over a decade. Our organizational style is simple, our recommendations are intuitive and our project planning is actionable, creating a streamlined plan for long-term growth in search.
Or
Do It Yourself! Learn How Here!
Order an SEO Strategic Plan
I offer an exhaustive search engine optimization strategic plan that includes the following:
Obstacle Analysis Report (OAR)
Competitor Analysis Report (CAR)
Keyword Discovery Report (KDR)
Link Analysis Report (LAR)
Creative (Post-Penguin) Link-Building Strategy
Behavioral (Post-Panda) Content Strategy
Video SEO Campaign Theme Suggestions
Social Media Campaign Theme Suggestions
What's in the Plan?
Below is a screenshot of a table of contents from one of the SEO Strategic Plans I've written. Topics and focal points will be based on your individual need and may have more emphasis on current technologies and platforms, such as mobile.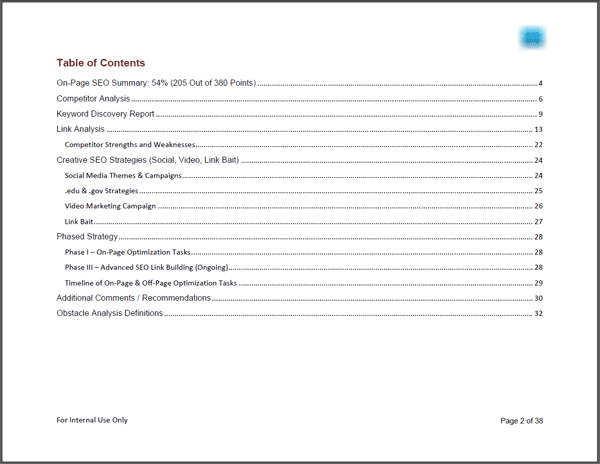 Or
Do It Yourself! Learn How Here!
Order an Obstacle Analysis Report (OAR)
We'll manually review your website to look at specific SEO criteria such as site structure, site maps, page speed and cross-browser/cross-device compatibility. We'll look at titles, descriptions, robots.txt, redirection and more. The full audit includes over 40 criteria, including location-based SEO criteria (if applicable).
BONUS! Nearly every criterion reviewed includes a video tutorial describing the attribute, the reasons it might be important to SEO and resources to help you resolve the problem.
Priority of each focal point
Role responsible (webmaster vs writer)
Resource used to test with
Google's opinion on the item
Two to 10-minute training video for each item
Our search engine optimization assessment includes an exhaustive list of on-page and off-page audits. We price this full audit based on the long-term value it has provided to clients we consult with regularly and from the data post-implementation, we know it's worth the cost.
The audit includes emphasis on mobile optimization, website speed, social signals, page optimization and linking patterns (among other criteria). Each row of our audit includes the resource who should be working on the focal point, Google's view on the topic, the resource to test with and a two to 10-minute video of us walking you (or your team) through the item in detail.
Preview of Our Audit List (25 of 70+)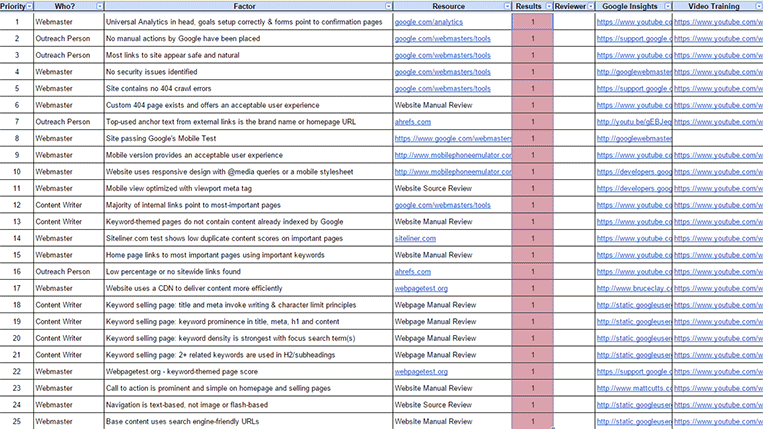 Or
Do It Yourself! Learn How Here!
Items Reviewed:
Universal Analytics (why optimize if you can't track results?)
Security issue test
Site crawl error test
Custom 404 page test
Mobile version user experience test
Responsive and or mobile design test
Viewport meta tag test
Duplicate content test
Homepage intra-linking test
Content delivery test
Selling page download speed test
Homepage conversion test
Text-based navigation test
Search engine-friendly URL test
Google PageSpeed test – mobile
Homepage download speed test
Robots.txt no-script-blocking & sitemap declaration test
www-Prefix test
Trailing slash test
Unique heading tag test
XML sitemap test
HTML sitemap test
Duplicate URL test
Excessive intra-linking test
Homepage trust test
Breadcrumb navigation test
Duplicate title and meta test
Canonical homepage test
Google PageSpeed test – desktop
Subdomain test
Social subscription button test
Selling page conversion test
Facebook Open Graph test
Twitter Card test
Blog subscription form test
Google+ Authorship test
Blog post sharing test
Alt tag test
McAfee Site Alert test
Norton Web Safe Alert test
Followed social button test
Google+ profile test
Facebook profile test
YouTube profile test
Twitter profile test
Pinterest profile test
Manual action test
Explicit backlink test – 3rd party tool
Safe link test – Google tool
Brand name backlink test
Site wide backlink test
Intra-linking test
Duplicate content test – external content
Selling page title and meta language test
Selling page keyword prominence test
Selling page keyword psuedo-density test
Selling page semantic keyword in subheading test
Privacy policy exists within global navigation
Homepage video test
Selling page video test
Selling page image test
Topic page title and meta language test
Topic page keyword prominence test
Topic page keyword psuedo-density test
Topic page semantic keyword in subheading test
Topic page video test
Topic page image test
Topic page content quality test
Or