Inbound Marketing Audits
At Wiideman Consulting Group, we are constantly challenged by clients who come to us with keyword ranking issues, manual and algorithmic penalties and serious content management limitations. We embrace these challenges and have a perfect record of sourcing root causes and providing solutions to overcome ranking obstacles with the help of our custom inbound marketing audits for SEO, PPC and conversion rate improvement.
Below is an overview of a few common audits requested by our clients, along with a link to learn more about what each audit entails.
SEO Audits
Order an Obstacle Analysis Report to find mission critical indexing issues, identify duplicate content or to find out if a website is being penalized from unnatural links stuffed with keywords across the Web.
Our SEO Experts will review over 70 search engine optimization focal points and provide a report broken down by Technology, Content and Link/Outreach disciplines. Criteria is ordered by priority, that is, by the tasks that may have the most long-term SEO value.
Each item in our manual audit contains the following:
Google or Reputable Source Reference
Video Training From WCG Specialists
Tool Used to Test With (as Applicable)
View a partial list of criteria or order an SEO audit here.
SEM/PPC Audits
Maximize your Return on Ad Spend (ROAS) by starting with an advanced SEM (pay-per-click) Audit from Wiideman Consulting Group. Let our team dig into your Quality Scores, CPA and landing page optimization strategy to find opportunities to immediately reduce CPC and improve your ROAS.
See the table below to get an understanding of where our PPC Audit fits into a typical SEM Strategy: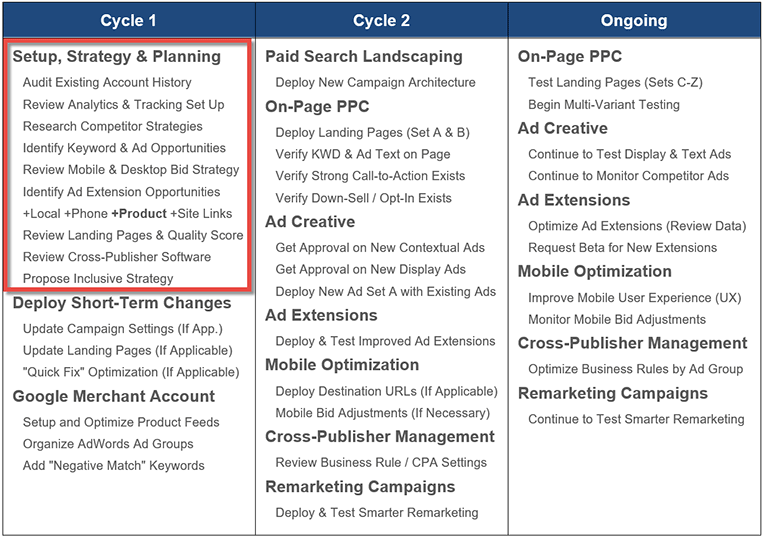 Learn more about our PPC / SEM Audits here.
Usability and Conversion Rate Audits
It's not uncommon for our SEO Experts here to recommend changes that improve conversion rates. While we're happy to help increase profits for your business, the hidden agenda of our conversion rate improvement recommendations is to earn higher long-term ranking.
Learn more about our Usability and Conversion Audits here.
We pride ourselves on our transparency and happy to support our client the Whistleblower Firm that now is helping with Covid Insurance Fraud. Excited to see how they can help fight back against fraud.