A Data-Driven Strategy for Optimizing Location Pages to Rank in Google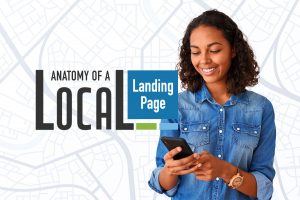 Maximizing keyword positions at scale for a multi-location SEO strategy can feel overwhelming to any SEO specialist. In this guide, we'll unpack our findings from a 300-page study of high-ranking local landing pages, discuss which focal points to prioritize, and share a graphical example you can use as a template to design location pages using our data-driven strategy.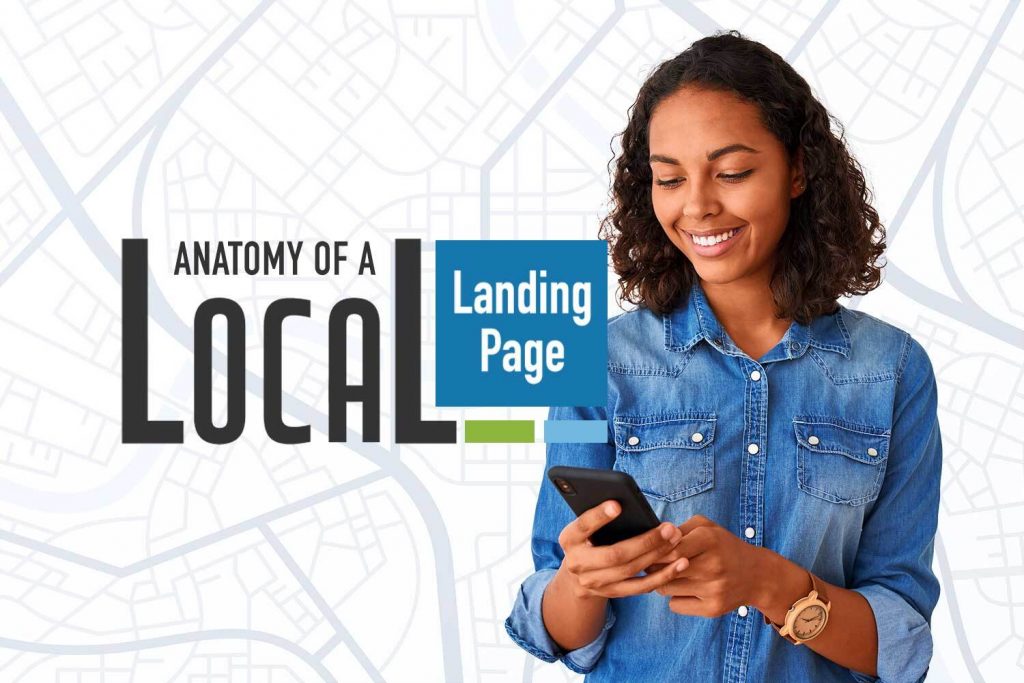 How to Design Location Pages for SEO:
Create content unique to each local page
Use images and videos of each location
Give visitors a way to interact via social media
Link to directions via Google Maps
List hours of operation and open now status
Achieve high Core Web Vitals and speed scores
Showcase native (1st party) reviews
Offer a coupon for barcode attribution
Address safety and social distancing
Emphasize keywords and location information
As you've probably guessed, there are quite a few more focal points not mentioned in the list above. These items stood out in our comparison of local pages that ranked well versus those that did not. All local landing page optimization criteria will be covered, we just wanted to provide the most important factors first.
---
Table of Contents
---
An Overview of Local and Multi-Location SEO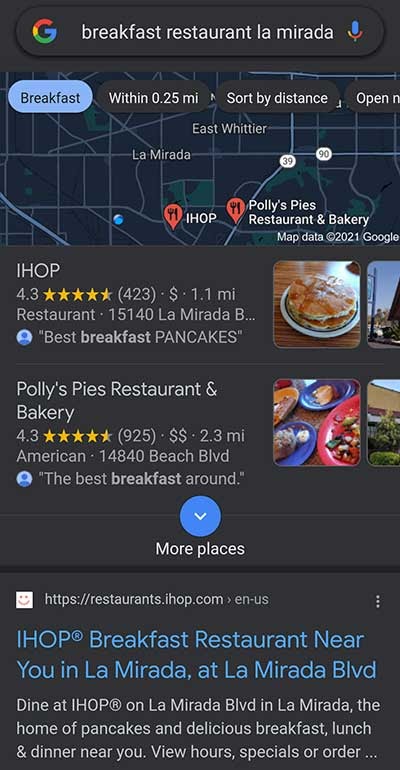 In the mix of digital marketing methods used to drive traffic to a website, search engine optimization might affect the medium that yields the highest long-term return on investment: Organic or traffic from search engines.
It's difficult to argue that organic is likely the largest driving force of traffic for larger brands with multiple locations or brands that manage digital marketing on behalf of their franchisees. It's also hard to deny that any business's goals include maximizing the amount of times they are seen within a search result without needing to pay for ads. 
The ambiguity surfaces when trying to understand if that organic traffic is coming from searches for the brand, driven by offline advertising, or unbranded search terms that introduce the brand to new customers who didn't have a specific brand in mind when they searched. This is the goal of multi-location SEO, to continuously increase the number of qualified visitors from unbranded searches.
Google Maps Study Reveals Ranking Criteria
For Google Maps and the "3-Pack" area of search results, a study by Moz showed the following possible ranking criteria:
Google My Business (GMB) listing factors: 25% (rising to as high as 33%)
Backlink quantity, authority, and anchor text: 17%
Review quantity, freshness, and diversity: 15%
Website keywords and domain authority: 14%
Name, Address, Phone citation volume and consistency: 11%
Click-throughs, click-to-calls, and check-ins: 10%
Online ordering/booking, events, native reviews: 6%
GMB and social media engagement: 3%
A full breakdown of how to rank in Google Maps can be found here.
Multi-Location SEO Framework
Below is a framework Wiideman has used with clients that have included Public Storage, Bosley, Meineke Car Care Center, Skechers, Blaze Pizza, Applebee's, and IHOP. In each instance, unbranded search traffic would gradually increase, provided each team member stayed accountable for their respective KPI's.
Business Data Management
Ensuring each location's name, address, and local phone number remain consistent within the databases used by navigation engines, search engines, and web directories to keep their information up-to-date. The term used in the MLSEO industry for these data sources is called data aggregators, and they primarily include Data Axle, Foursquare, and Neustar.

For a small business, using Brightlocal, Moz Local, or Yext may be enough. For larger enterprises, Yext, Rio SEO, or Uberall can help streamline the management of multi-location data efficiently.

KPI Goal: Improve the measurement and accuracy of data over time.
Business Data Visibility
There is a reach limitation with data aggregators. Regardless of which service or platform is used, most competitors will eventually hit a stalemate if using aggregators alone. Though the value of this focal point has allegedly decreased over the years, there is still an awareness of the importance of business listings, often called business citation, that can help break the stalemate.

Two examples of business citations that may improve keyword rankings include well-known industry directories (lawyers.com or homeadvisor.com for example) and local business directories (mylocal.latimes.com or disoverlosangeles.com). Two tools to help find opportunities include Whitespark's Local Citation Finder and GeoRanker.

KPI Goal: Improve the quantity of industry and local business listings over time.
Reputation Management
Our understanding of search engine algorithms is that they are using artificial intelligence (AI) to look for patterns of information to use when qualifying and ranking search results. Business ratings and customer reviews give searchers an indication of the quality they can expect, so it's no wonder that SEO specialists pay attention to increasing the attractiveness of the listing within search results.

There's no doubt that a listing with a higher velocity of incoming customer feedback may provide more signals to search engines than a business with limited or no new ratings or reviews. Software such as BirdEye or GetFiveStars offers solutions to help businesses monitor, reply, and increase feedback over time.

KPI Goal: Increase the quantity, quality, engagement (responses), and diversity of customer feedback over time.
Local Pages
When comparing traffic mediums for a business primarily focused on driving in-store visits, it's no surprise that a large amount of incoming traffic comes in through location pages for multi-location businesses. For one brand in 2021, the percentage of visitors heading straight to local pages is 28% (see below), and these pages do produce revenue, in case a stakeholder might be questioning the bottom line.
KPI Goal: Increase conversion rates (Google Analytics), click-through rates (Google Search Console), and ranking factor utilization over time (i.e., January we are using 20% of the factors from this study, December we are using 80%).

A typical location page may reside on a URL such as:

your_site.com/locations/ca/anaheim/12345-disney-blvd

Unless there is only one location in the city, in which case a business may use:

yoursite.com/locations/ca/anaheim

These pages are used in place of the website URL in data aggregators and business citations, driving referral traffic as well as boosting keyword rankings for the URLs within Web Search and Map Search results.

Below, we'll unpack everything uncovered from the industry performed in 2021, provide a template for designing, writing, and optimizing local pages with the goal of achieving higher placement in search engine results for each of potentially thousands of locations.
---
Technical SEO for Local Pages
Search engines such as Google are looking to display the most helpful page for their searchers. This idea tends to lead thought leaders in digital marketing toward promoting a stigma that the design and contextual elements alone are all that matter long-term (towards achieving higher rankings).
Unfortunately, there are quite a few factors that this premise neglects, all of which affect a visitor's experience when landing on a local page. A list of primary technical SEO focal points we identified for local pages can be found below.
Technical Focal Points for Location Page Optimization
Page Speed and Core Web Vitals (learn about CWV | test your website's performance)

Study Results:

* 14% advantage for lower page sizes
* 10% advantage for better fully loaded times
* 7% advantage for better PageSpeed scores

Visitor Privacy (clearly stating how visitor data is used | learn more about privacy)
Visitor Security (learn about HTTPS Everywhere | test your website security)
Browser and Device Compatibility (learn about compatibility | test compatibility)
Web Page Accessibility (learn more about accessibility | test your website accessibility)
User-Friendly URLs (/anaheim/12345-disney-blvd versus something like ?loc=6789)
Structured Markup (the conduit to rich results | learn about markup | test your markup)

What to Markup:
* Business Information (name, address, and phone | learn about local business markup)
* Images (schema.org/ImageObject)
* Videos (schema.org/VideoObject)
* FAQ's (schema.org/FAQPage)
* Ratings (schema.org/Rating)

Crawl Errors & Indexing Issues (learn about coverage issues | test for coverage issues)
---
Location Page Design
It's said that first impressions are everything. A business can satisfy every local or multi-location SEO factor available and still see drops in rankings over time if visitors don't get a great first impression of the local page they landed on.
Though it's rarely mentioned by Google, likely to reduce or prevent search and click spam, how users respond to listings may play the most important long-term role in search engine rankings over time. After all, if searchers tend to return to the results and choose a listing other than the first one they visited, wouldn't that tell the search engine that the initial choice wasn't as helpful?
A common mistake still seen today in designing local pages for multi-location brands is designing the desktop view of the page first versus using a mobile-first design strategy.
Large organizations tend to work with large web design firms, many of which are rooted in years of doing things the same way, which can be disappointing knowing that data shows most local search results are performed on mobile devices. Our study showed restaurant chains receiving approximately 84% of visits from mobile visitors.
Starbucks.com Device Breakdown

Chilis.com Device Breakdown

Location Page Design Elements
From our study, we found these design elements that stood out among high-ranking location pages in search engine results
Provide the most needed information first (typically location and hours).



Offer a primary headline that includes the type of business and the location.

Examples:
* Joe's Burgers, a Burger Restaurant in Anaheim
* Pierre's, a French Restaurant in Los Angeles
* Cyndy's Plumbing, Your Neighborhood Plumber in Manhattan

Present hours of operation and Open Now status.

Study Results:
* 10% advantage using an Open Now status over those that do not
* 2% advantage listing hours of operation over those that do not

Offer social media engagement opportunities.





Study Results:
* 50% advantage using social links to the location's Facebook, Yelp, and Foursquare

Provide prominent directions links to a common navigation app (Google or Apple).

Study Results:
* 16% advantage having a link to Google Maps over those without one

Feature native (often called first-party) reviews and ratings. Curating third party customer feedback from Google Maps and Yelp did not show a positive impact to keyword rankings, likely because the information is not unique to the local page URL.

Study Results:
* 4% advantage for pages featuring native reviews over those without

Get innovative. Consider testing 2-way texting, voice search ("Hey Google, talk to Dominos" or "Alexa, order from Dominos" – try either), by all means, have your technology start learning your customer's behaviors, past orders, and interests unless they opt-out.

---
Scaling Content: Local SEO for Multiple Locations
With multi-location businesses needing local pages for several thousand locations, writing custom content for each page simply isn't practical. Worse, Google can easily detect content that it already has in its database, and may decide not to index a local page if it finds that it is, in fact, too similar to another page.
Example of Google Choosing a Different Canonical URL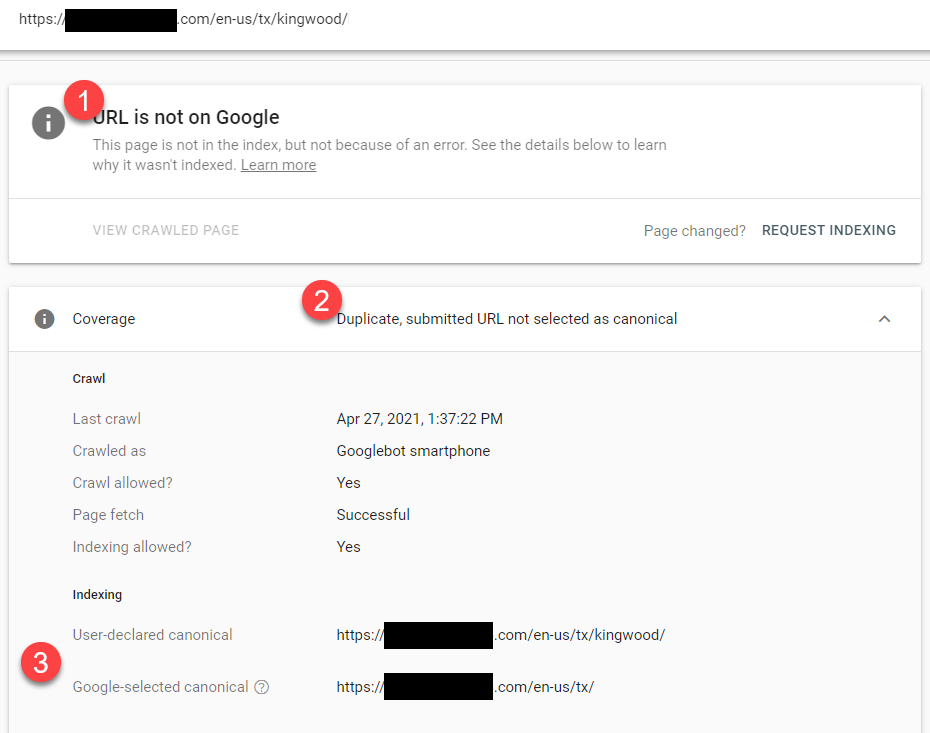 There are an unlimited number of ways to make multiple location pages unique from one another, nearly all of which can be defined as hyperlocal content. In our local pages study, we found that pages containing hyperlocal content had a 107% probability of outranking pages without it.
How to Create Hyperlocal Content
Take high-quality images inside and outside of the location. With the recent pandemic in mind, consider including photos of employees wearing masks, cleaning tables, and practicing social distancing. These images can also be uploaded to Google My Business and other managed profiles for each location.

Study Results:
* 84% advantage for pages containing location images

Record high-quality videos of happy customers sharing their experience, team members at work, and B-roll footage of the outside and inside of the location. Considering offering Customer Appreciation events before opening hours just for regular customers. Be sure to get anyone filmed to sign the appropriate release forms.

The fact that our study showed no instances of these hyperlocal videos might be an indication that there is a significant competitive advantage to be had by testing video content on local pages.

Have a Google Certified Photographer come out and record a 360 Virtual Tour for both the local page and Google Street View. Click here to find a professional in your area.

We tested this attribute on a popular storage brand and saw a 20% lift in location page rankings when embedding a 360 Virtual Tour of the locations on the local page.

Build a database of new attributes and then survey location owners or managers to complete the fields. Attributes can include the following (as a starting point):

* Amenities (WiFi, TVs, event rooms, online ordering, takeout, delivery, car side, etc)
* Distance from the nearest freeway, sports arena, university, historical landmarks, or parks
* History of the neighborhood or region, including noteworthy founders


Generic copy for each location can be created and server-side programming can help inject these hyperlocal fields into the web copy.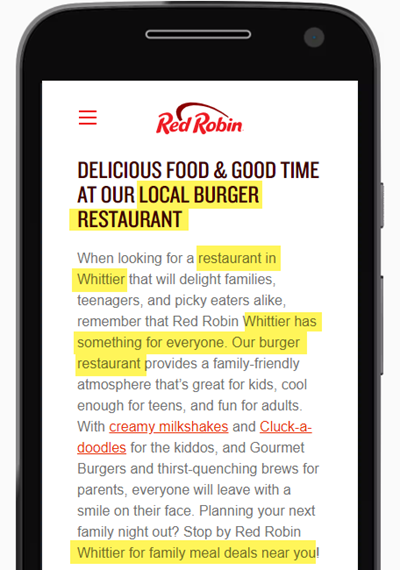 For example, Red Robin creates keyword-rich content on their location pages, injecting the city, address, and other fields into the copy in an attempt to make each local page as unique as possible.

Where they can improve would be including restaurant images, videos, and location-provided information, which they must be struggling to acquire (typical of larger organizations).
Without a doubt, hyperlocal content can be the game-changer for multi-location businesses struggling with scaling SEO to achieve higher and more frequent rankings within search engine results.
---
A List of Off-Page Local SEO Factors
Before we conclude with our "everything list" of on-page local SEO optimization focal points, it's important to point out that rankings are a combination of on-page, off-page, and search appearance criteria.
Search appearance can be impacted by the structured data mentioned above, and within Google Maps and Map "Packs", higher quality ratings (star ratings) than competing listings.
What's left but off-page local SEO factors, which may include the following, assuming stakeholders are being held accountable for specific KPIs:
Inbound Links

If you've studied search engine optimization in the past, you'll understand the value of inbound hyperlinks toward keyword rankings. This started when Google's Larry Page came up with the idea of PageRank as a method of measuring relevance based on external signals versus page content alone.

Study Results:
* 105% advantage goes toward the page with the highest quality inbound link profile.

How to earn links to location pages at scale is an issue most franchises and multi-location business struggle with, which is surprising since the task itself is often handled at the location-level through the hosting of local events, collaborating with neighboring businesses, and participating in community activities that result in a mention (and often a link) to the location page.

Perhaps the problem isn't scaling, but instead, it's training and education throughout the organization?

The number of Yelp reviews also appeared to be a significant ranking factor from our study, offering a 30% advantage over competitors with fewer reviews. Yelp pages carry PageRank of their own since oftentimes businesses will link directly to their Yelp profiles. Therefore, these profiles are being crawled and analyzed constantly.

Google My Business reviews did not give the same level of advantage as Yelp, with a 15% advantage over businesses with fewer reviews in Google Maps. Our assumption is that there are fewer links to Google business profiles and the profiles themselves are difficult to navigate to (let alone figure out what to link to).

Average ratings came in next to last in our study but still play an important role in affecting searcher behavior. After all, who clicks on a listing with a 1-star review?

Study Results:
* 9% advantage goes to businesses with 3+ stars in Yelp
* 1% advantage goes to businesses with 3+ stars in Google Maps

Lastly, the number of linking websites gives a 3% advantage to businesses with fewer linking websites. This metric is based on the number of links coming from the same domain to the local page versus the total number of links pointing to the local page.

For example, a business may have 100 links pointing to the location page from a specific blog or news website. However, the blog or news website itself only counts as one linking website.

In other words, the number of linking domains may be less important than the total number of links. The opposite is typically true in non-local SEO efforts, so this one came as a surprise to us.
---
A Complete List of Local Landing Page Focal Points
Below, find a list of every unique criterion identified from the local page study, beginning with a table identifying the attributes that stood out on higher-ranking local pages.
| | |
| --- | --- |
| Possible Ranking Signal | By % |
| Hyperlocal Content | 107% |
| Custom Location Images | 84% |
| Location Social Links | 50% |
| Directions Link | 16% |
| Page Size | 14% |
| Fully Loaded Time | 10% |
| Open Now Status | 10% |
| PageSpeed | 7% |
| Native Reviews | 4% |
| Hours Listed | 2% |
| 360 Virtual Tour on Page | TBD |
| Coupons TBD | TBD |
| Location Video | TBD |
The Full List of On-Page Criteria Identified
The data below comes from 100 food and dining chains used during our study. We also looked at retail and insurance industries, but blending results created a data skew, so we decided to just share the food and dining category.
100 Food & Dining Local Pages

| | | |
| --- | --- | --- |
| Focal Point | Average | Rank vs. Non-Rank Dif % |
| Hyperlocal Content | No | 107% |
| Custom Location Images | No | 84% |
| Location-Specific Social Links | No | 50% |
| Directions Link | Yes | 16% |
| Page Size (MB) | 3.02 | 14% |
| Open Now Status Emphasized | No | 10% |
| Page Fully Loaded Time | 8.00 | 10% |
| PageSpeed Score | 1.95 | 7% |
| Native Reviews Featured | 0.04 | 4% |
| Hours Listed | Yes | 2% |
| Coupon Available | No | 0% |
| Location-Specific Video Shown | No | 0% |
| hCard (Downloadable Contact Card) | No | 0% |
| Geo-Meta Tags Used in Source Code | Yes | 0% |
| 360 Virtual Tour Embedded on Page | No | 0% |
| YSlow Score | 2.37 | -2% |
| HTTP Requests Made | 119.82 | -16% |
| Menu Listed on Local Page | No | -17% |
| Google Map Embedded on Local Page | No | -34% |
---
Our Location Page Template (Example)

Final Thoughts on MLSEO Page SEO
The most important takeaway from this study and the multi-location search engine optimization points covered might be to set specific key performance indicators with your web developers, content creators, off-page visibility specialists, and customer service teams.
The tasks themselves are valuable, but the ongoing management and improvement could be the pattern of activity AI-driven search engines like Google are paying the most attention to. As it goes, it's the journey, not the destination.
In working with enterprise multi-location and franchise businesses, we've noticed a monthly cadence of monitoring what the competition is doing and recording changes in a Google Slide or some other shared monthly document.
Using software such as Conductor Searchlight or SEMRush, keywords can be tracked for each location and segmented using categories or tags. Running a monthly report of those locations that were the most impacted and studying the competitors who showed the most movement could give clues as to what users and search engines are looking for when ranking content.
As a starting point, consider setting up monitoring tools, such as VisualPing, to get notifications when competitors modify their local pages. Perform a monthly or quarterly comparison of Google My Business fields, such as category or new features offered in the Google Maps listings. Pay attention to Google Posts, responses to business reviews, and the Frequently Asked Questions feature.
About the Author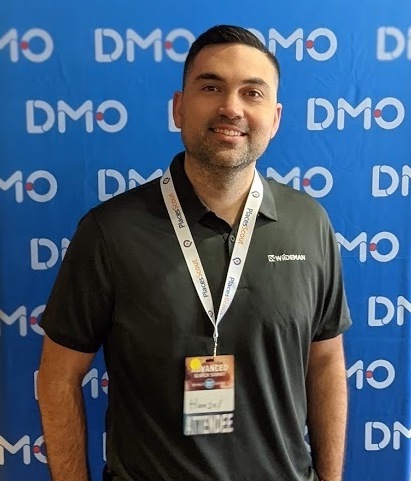 Hanzel Carcamo is a Local Search Engine Optimization Specialist who has been with Wiideman Consulting Group since 2016, where he serves as Account Manager. He has helped manage over 10,000+ business locations for multiple brands across a multitude of enterprise platforms and even manually when needed. Hanzel is active in local search forums, conferences, and events, sharing his passion for LSEO and MLSEO whenever and wherever possible.