Lead Generation SEO Strategy
Similar to building a strategy for e-commerce, the strategists here at Wiideman Consulting Group will work with your team to create a lead generation SEO strategy based on technical, contextual and visibility focal points search engines look for when determining rankings.
The typical life cycle of an SEO initiative begins with a solid strategy focused initially on three main disciplines: technology, content and visibility (links, mentions, name searches).
Below is an example of a properly executed lead generation SEO strategy from one of our current clients in the real estate industry: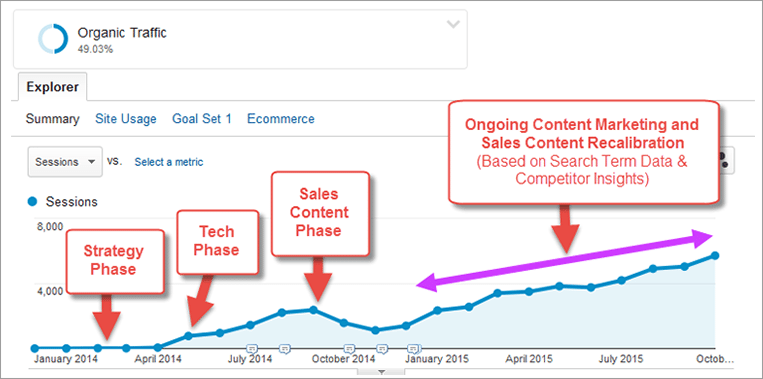 What is in a Lead Generation SEO Plan?
Lead generation (or lead-gen) places emphasis on category, subcategory and service landing pages, where an e-commerce SEO strategy focuses heavy emphasis on product and category pages (templates). We will also be looking closely at conversion and usability focal points, where shopping cart SEO has a focus on an immediate sale (and we all know what motivates buyers).
The plan itself typically includes the following:
Content management system assessment and technical audit
Category, subcategory and service detail page audits
Competitor baseline (where you are compared to the competition)
Link analysis and strategy (toxic links, competitor-earned, etc.)
Keyword discovery and suggestions (based on data and insights)
Creative strategy to attract links and recurring searches
Social and video strategies in support of SEO efforts
Typically within 20 business days (a calendar month), the strategy is completed. A call will be scheduled to review the plan several days after it has been delivered, giving the client and team plenty of time to go through each section and put questions together.
Why Choose Wiideman for Strategic Planning?
Senior team members at Wiideman Consulting Group have worked for and with many of the world's largest brands in entertainment, retail and technology. Together, we have written hundreds of SEO strategies over the last two decades, refining criteria based on changes in search engine ranking signals.
We pride ourselves on having become a principle-based service provider, following search engine guidelines and focusing on three critical fundamentals: Relevancy to Query, Authority/Visibility and User Behavior (click and stay). Building from these fundamental requirements of SEO has prevented loss of search engine rankings for 100% of our clients who follow our recommendations.
We have been mentioned or featured in publications such as Entrepreneur Magazine, CNN, CNBC and National Journal, as well as industry news portals such as Search Engine Journal, Moz and MarketingSherpa.
More importantly, we are best known for our casual bedside manner, where other experts tend to have a "know it all" attitude, making the relationship one-sided and a difficult experience. We believe in listening first, not jumping to conclusions, and testing everything.
Talk with a Lead-Generation SEO Strategist
Wiideman Consulting Group does not charge for assessment calls, and you will speak directly with a lead generation specialist who will explain our strategy in greater detail and share recent case studies or examples that may include past clients in your industry. Call (562) 732-4417 or send us an email, and we'll schedule the introduction. We know you'll appreciate our customer service and non-sales-like approach to earning your business as a lead-gen strategy client.