SEM PPC – Audits for Paid Search
Start improving your return on ad spend (ROAS) and cost-per-acquisition (CPA) with a comprehensive PPC audit from Wiideman Consulting Group. Our team is AdWords Certified and can help troubleshoot when performance suddenly changes or perform routine audits to ensure that campaigns are improving over time.
Example of Performance Post-SEM Audit
Below is a screenshot from an account that was underperforming recently. With our guidance and a thorough pay-per-click audit, our client was able to see significant improvements in converting leads from AdWords within a short period of time. Results will vary but it is almost inevitable that our findings will immediately improve performance.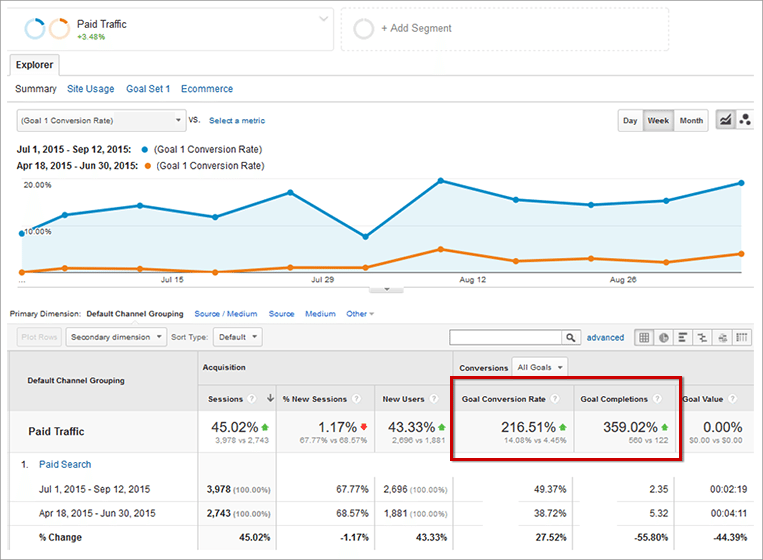 ---
What's in the PPC Audit?
Our team of corporate-level search engine marketers will review historical and recent data, along with researching competitor insights, such as comparing a competing landing page for a similar set of keywords. Below is a sample list of items reviewed within our paid search audit:
Overall account performance (average Quality Scores, etc.)
Campaign performance and settings (day-parting, location exclusions, mobile bidding)
Campaign attributes (types, extensions, etc.)
Campaign organization (budget allocation for higher-converting keywords)
Ad group performance and settings
Ad group attributes (extensions, match types, negative keywords, etc.)
Ad performance (keyword usage, display URLs, symbol usage, etc.)
Keyword performance (match type strategy, etc.)
Search term opportunities (Detail Report & Search Console)
Complete landing page audit
Automations currently in place
and more
There's nothing more rewarding to us than hearing a client tell us they've seen significantly better performance after making changes to their AdWords or AdCenter (or other paid search) accounts. We live for success stories and hope to have you as one of them.
How Long Does the SEM Audit Take?
Wiideman Consulting Group will request access to Search Console, Analytics and paid search publisher accounts (and, if applicable, bid-management platforms) at contract signing. Once we have access to everything we need, there is typically a 7-day period of us asking questions, and then our team is off to the races.
A small account (under five campaigns) can take us a few days to complete an audit. Mid-size accounts (six to 20 campaigns) can take up to two calendar weeks to go through everything listed above. Larger accounts (multiple MCCs, 20+ campaigns) may take several weeks to complete; however, we'll have a better timeline once we've logged in and started looking around.
Talk with a PPC Auditor Free
All assessment calls with Wiideman Consulting Group are cost-free and serve as an introduction. We encourage you to do your diligence and to ask any specific questions about our process, history and capabilities. Call today or email us online to schedule a consultation. We are confident that you will appreciate our customer service and client-first mentality.