Online Reputation Strategy & Checklist
Take a quick look at your web analytics, and you'll see that most of your traffic comes from search engines, not users directly navigating to your website from a browser address bar. If you're a prominent brand in the industry you might also notice that your keyword traffic originates from users searching for your business name more than any other term. But what comes up when a user searches your name, and what do the results say about your company?
Online Reputation Management Tutorial:
Online reputation is often the most neglected search engine optimization focus point, but it's one of the most important. Your SEO Roadmap for online reputation will vary by your business model and goals, a few of which we'll cover on this page.
Online Reputation Roadmap Topics
Web Security Notifications
Three important web security notifications commonly seen in search results include Google-specific, McAfee, and Norton warnings. Searchers will not click on a listing with a warning, and there's plenty of data out there to show the importance of user search behavior as it applies to ranking (example).
Google Warnings
Search for your company in Google, or if you're website is new, search for the entire domain (yourdomain.com). If the message "This site may harm your computer" appears, Houston, we have a problem. Here is the Google documentation on how to resolve this problem. It involves quite a bit of research and work, but it's worth the effort.

McAfee Warnings
As with most anti-virus software, users with the popular McAfee SiteAdvisor installed will see a warning in the search results similar to what you see below. You'll want to work with your web hosting provider and webmaster to fix security loopholes and remove any malware that might have injected its way into your web files. When done, submit your website to McAfee for review.

No rating at all can be as bad as a negative rating, so take the time to submit your website for review. When done, the search results should show a small green check mark, similar to what you see below: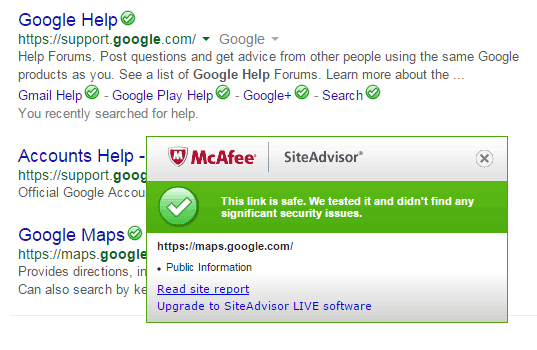 Norton Warnings
Users with Norton (Symantec) installed will see a warning or no review in the search results similar to what you see below. As with the McAfee warning, you'll want to work with your web hosting provider and webmaster first to resolve security loopholes and remove anything dangerous from your website. When done, submit your website to Norton for review.

If all goes well with Norton, you'll have a green icon next to your listing for Norton users stating "OK" with Norton name next to it as shown here:

Maximize your click-through rate in search engine results by insuring Google, McAfee and Norton messages are clean and stay clean. Schedule monthly reviews of all three just to be safe. It could be the best 5 minutes you spend on your search engine optimization.
Google AutoComplete
Nothing scares a potential customer away more than harmful words in Google AutoComplete. Regardless of how great you think your company is, there's always someone who has a different opinion or some news post that influences Google to infer that word is frequently searched.
Example of a Negative AutoComplete Result:

We performed a study of Google AutoComplete in December of 2010, resulting in the following top 5 focal points identified by SEO thought leaders as the primary influencers:
Volume of queries for a term
Click-through history of suggestions
Volume of actual search results for a keyword theme
Click-through rate of suggestions in search box
Explicit nature of search query for a given phrase
Unfortunately, you'll have to get really creative to influence what appears in AutoComplete without violating Google Guidelines. Our recommendation: consult an expert before taking action on anything that could result in penalty.
A few starting points would be to start a positive campaign that helps an organization or to create your own organization like the Ronald McDonald House. When it comes to names, think up a name that starts with the letter of the word impacting you the most.
If scam is the word you're trying to bury, you might start a foundation for "Safe Homes for Kids" for example.
Brand Name Searches
If you're not already receiving Google Alerts for your name and company name in quotes, stop reading and setup them up (it's free). Keeping track of what's being said about you is critical. You might even pickup alerts for competitors to see what they're up to as well. The goal here is to intercept anything being said about you before it appears within search results.
As mentioned above, most users search for your name rather than just directly type it in. Strange that the world hasn't figured out how to use an address bar yet, right?
Point is, when users see negative results, they become less likely to use your service or buy your products. Worse, the more they click on the negative results, the harder it becomes to bury them, since Google may calculate search history data into it's ranking algorithm.
Example of What Could Happen to You: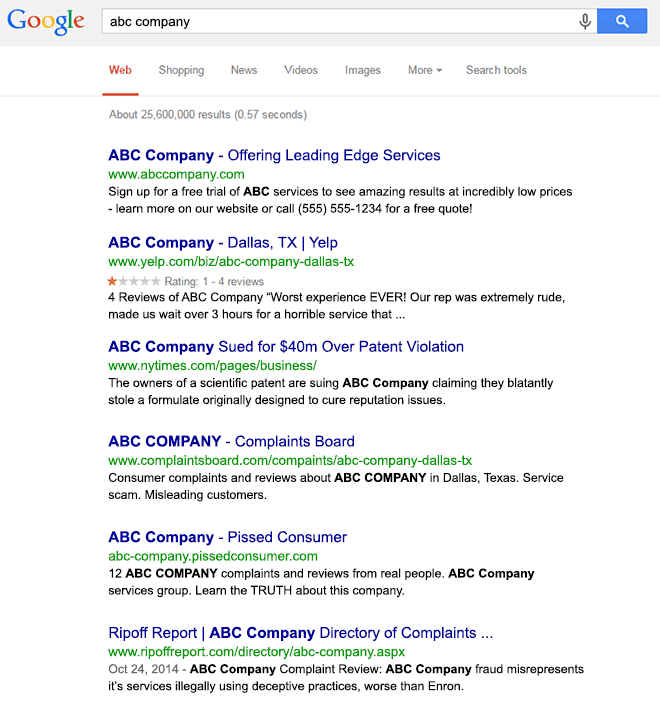 Other searches you might try include: "your company reviews," "your company complaints," and "your company ratings." Disclaimer: If you perform these searches too frequently, you risk having these terms appear in Google AutoComplete. Instead, subscribe to Google Alerts to start, and limit the amount of times you perform a search to avoid creating an even larger problem.
Local SEO – Ratings & Reviews
As seen in the screenshot above, ratings and reviews do appear very quickly and very prominently within search engine results. The  business review industry has grown into an epidemic, causing the closure of many good businesses that suffered the wrath of sometimes over-critical reviewers. Businesses are fighting back, but unfortunately, most are losing, as you can see here.

It's unknown if Google uses the actual ratings in how it scores a business for ranking in it's blended Maps Packs, but we do know for sure that click-through behavior does impact whether Google will show a result or not — and let's face it, who clicks on a business with a low rating? Nobody.
Build a Strategy for Improving Ratings & Reviews
Using online reputation monitoring tools is the first step to not being caught like a deer in the headlights when a bad review surfaces. However, that's the easy task when it comes to ORM. The difficult task ahead is deciding what you are going to do about negative reviews and how you plan to have customers to leave better reviews going forward.
Since a customer's experience starts when they walk in the door, consider having your staff hand customers a "Check-In Card" with a discount coupon on the back just for coming in to the location. Check-in QR codes that customers can scan with their phones might include Swarm, Facebook, Google Plus, and Yelp. Many of these check-in tools will encourage leaving a review later on.
Provide an awesome experience. It's not the 90's anymore, people love to share and everyone has a smartphone. Just be amazing in every aspect of what you do to reduce the probability of a negative review.
Onsite staff need to add to their list of responsibilities the task of monitoring customer experience. If you know a customer is not getting attention because you're understaffed, pause what you're doing, quickly go to the customer and let them know you'll be right with them and compliment them on something. Before walking away, hand the customer a "Care Card" with a QR code to a page on your website where they can download a coupon and easily leave feedback for the "corporate office." This could be compared to rolling out the red carpet to an upset customer. We're listening, here's a coupon, we care.
Many people don't like to do the same thing twice, so unless they are extremely upset, there's a lower probability of the customer leaving a poor review on a social website after leaving feedback via your own site.
Lastly, if they obviously had a great experience, hand the customer a "Share Card" with a QR code pointing to a page where they can click a few radio buttons (survey style) and ultimately land on a "Share Your Experience" page like the one you see below: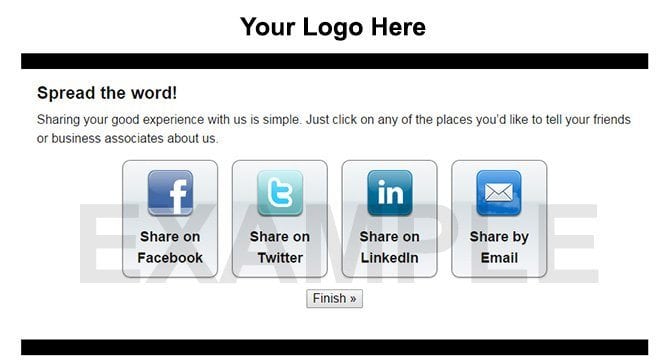 Who Offers This Type of Review Service?
It's not easy to find local business review services on Google or software to render the above after completing a customer service survey, but we tracked down what we believe to be "The Big 3 Review Services", which are:

Use at your own risk, and whenever possible, avoid long term contracts. We also understand that eKomi integrates nicely into your AdWords review site extensions, which could help improve your pay-per-click advertising performance.
Niche Reputation Websites
When we refer to "niche" reputation websites, we're not referring to destinations in your niche, but the reputation niche itself. These sites are primarily designed to destroy your business if you don't allow your customers to treat you like slaves, or if you don't treat your worst customer like they own your establishment. At least that's how it feels to most business owners we talk with.
To the websites themselves, their goal is to get businesses to pay for premium services who hope to gain control over what appears under their profiles. It will cost a business a one-year contract to find out that it's just the opposite.
For example, as we understand it, websites such as Yelp don't exist to help your business, they exist for their users to Yell'p about their negative experiences, which explains why so many of your positive reviews are being filtered out (it's okay if you want to go hit something and come back, we feel your pain).
We found an excellent article from 2011 at Search Engine Land on How to Remove Ripoff Reports (and other review sites) from Google, that suggests having Google themselves remove the search result by getting a court order. Doing so results in the following statement at the end of the first page of the search results:

The websites you need to be paying the most attention to (as of January 2015) include the following – sorry, we won't link to these destinations:
The Better Business Bureau (BBB.org)
Yelp (local/social)
Ripoff Report (leading extortion site)
Pissed Consumer (general complaints)
Scam.com (general)
Glassdoor (employee complaints)
Complaints Board (general)
Consumers' Checkbook (general)
Consumer Affairs (general)
and others
Take the time to register at each of the above niche reputation-impacting websites. Learn their rules, play their game, and get your absolute best customers to share their experiences across all of them. Warning: do not blatantly ask for reviews on Yelp, as it's a violation of their terms and conditions.
Listening and Monitoring
Since most of your non-referral business will come from the Internet, you have a responsibility to your brand reputation to monitor what's being said about you and your company. As we mentioned above, starting with Google Alerts is a great way to obliterate negative search results before they appear on the first page of Google.
Other third party tools are also available to help you stay in control of your reputation. Below are a few our favorites.
Local Business Review Monitoring Tools:
Online Brand Monitoring Tools:
We borrowed the excellent list you see below from TrustRadius and strongly recommend visiting this page to compare products side by side before choosing a solution.
Radian6 by SalesForce
Brandwatch
Sysomos MAP
Attensity
Meltwater Buzz
Simplify360
Nible
Social Mention
Digimind Social
Trackur
Socialbakers
Infegy Atlas
uberVU via HootSuite
Synthesio
Get Help with This SEO Roadmap Item
If done correctly, each of the items on this page should be a task in your project management system or Google Sheet and assigned to someone on your team. Initial setup time should take 30 days or less, monitoring should occur in real-time, and reporting from your ORM Specialist on proactive initiatives and wins with regards to removing negative content should be delivered to you on a monthly basis.
Got questions or just need a hand getting started? Contact a Inbound Marketing Consultant at Wiideman Consulting Group at (562) 732-4417 for a free introduction consultation today!