Inbound Marketing E-books
White we're beautifying this page, please use the links below to download some of our popular e-books:
---
The Archives – Pre-2010
Information Products (SEO E-books)
Thanks for visiting my website and checking out all the great products I've worked on over the years. Search engine optimization allows businesses to secure low cost traffic for long periods of time. I know you'll find my products and membership website packed with step-by-step techniques and brilliant Creative Search Strategy, that if used and enhanced on a regular basis, can increase your online revenue every month.
---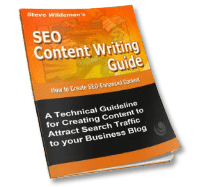 There is no greater way to frustrate your SEO team than by not responding to requests for content. Have you had this happen to you? Your SEO agency then comes back with their own copy of content that is completely askew of what you offer, making the situation even worse. Help us help you by taking a few minutes to read our SEO Content Writing Guide. It's nothing spammy, just several pages of tips on how to write effective content.
Strategies you'll find in this guide include fundamental sales principles, such as reciprocity, urgency, authority, scarcity, and trust. What you won't find in this guide is suggestions on how to stuff keywords all over the place to get higher ranking. Check it out for yourself, there's no opt-in or catch, just click the button below to get the guide.

---
There are a lot of e-books on the topic of search engine optimization, but like my free SEO E-book, SEO in a Day. Learn how to leverage the power of WordPress (the same platform this page was written on) to create pages that are optimized for higher ranking on a platform that is search engine-friendly.
SEO in a Day has been downloaded over 30,000 times as of January, 2011 and has been adopted by thousands of organizations as the standard for WordPress setup and content writing. There is no catch to get the e-book, simply click the Check It Out button below to get your copy.
Earn $20 after you download the e-book by providing me with 400-word review of SEO in a Day and linking to the product website within your review. Use any of contact forms to notify me of your review, be sure to provide me with your Paypal ID or mailing address.

---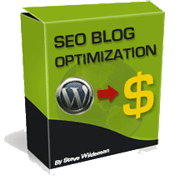 If it weren't for the fact that I sold this e-book in 2008, I'd just give it away, since it's based on earlier versions of WordPress. However, the principles have not changed, nor have many of the strategies and learning modules on search engine optimization and social media marketing. SEO in a Day (the e-book above) contains many updates to WordPress-specific practices.

---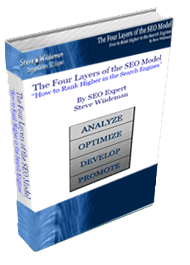 If it weren't for the fact that I sold this e-book in 2006, I'd just give it away too. This guide is over 5 years old and contains many fundamental principles and references. However, much of the content has been updated over the years, but it's still a great read.
Learn how to Analyze, Optimize, Develop and Promote your way to capture free traffic from search engine placements. In the Four Layers of the SEO Model: How to Rank Higher in the Search Engines, you'll take a journey into grassroots search engine optimization. Discover how to find the best keywords, make your website search engine friendly, make your pages optimized for higher keyword ranking, get links from popular websites, bloggers and through RSS.

---
SEO Content Writing Guide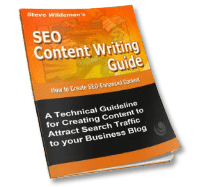 It's all yours. My newest SEO Content Writing Guide will assist you in creating content that ranks high in search engine results. There's even two pages on how to write content in WordPress using helpful plugins and making certain configurations to your theme. Learn how to write awesome page titles, meta descriptions and content.
Your feedback is always appreciated – please do let me know what you think after you've downloaded the guide.

---