Why Work with WCG?
Brands from all around the world call on our team to help research and plan a long-term strategy for improving visibility within search engines like Google, Bing and Yahoo! We are the problem-solvers, the creative strategists, and the innovators who bring more to the table than best practices.
We surveyed our clients in 2015 to see why they chose us over other much more well-known SEO consultancies and summarized their responses into three categories: Trust, Transparency and Integrity. Pricing was also an important factor but did not make the top three list of reasons to work with us.
Client's Trust Our Experience
Having built our careers in corporate environments, such as Disney and IBM Global Services, our clients can rest assured that their strategy will be grounded on Google-approved principles.
Many of our clients came to us through word of mouth and referral, a rewarding sign that we're doing right by our customers since they are referring us to others.
Reputation is paramount in the SEO industry due to the large number of inexperienced practitioners and agencies still working off of 2005 techniques, many of which often lead to ranking penalties. We encourage you to perform your due diligence, search any engine for our name and our Founder's name (Steve Wiideman) before working with us.
We're proud of the reputation we've earned and honored to have worked with the brands below and with the small business community.
Transparency is Everything
Thanks to the innovation of our SEO Roadmap program, the uncertainty of paying for wildcard online marketing services has come to an end.
The way we work begins by providing a clear calendar of expectations and events, coupled by a fully-populated project management system powered by Dapulse where you'll see every task involved in the strategy broken into respective disciplines: Technology, Content, Outreach, Social and Online Reputation.
There's no guessing working with us. Our clients and their team members work collaboratively with our consultants on macro and micro-level initiatives daily, pushing toward website crawl compliancy and fully optimized-for-search landing pages.
Below is an example of a typical timeline from our current SEO Roadmap program: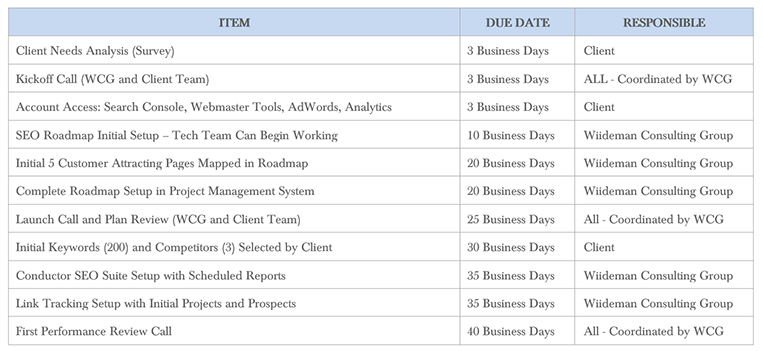 Integrity and Accountability
Though we are strategists and not physically making changes to your website, we stand by the work we provide to our clients. If we make suggestions that do not yield increased visibility, traffic and conversions from search, we'll take responsibility and stand by our commitment to our clients' success.
Our team has developed a special corporate culture here in La Mirada. We share many common traits, such as incredible bedside manner, objective thinking (avoiding jumping to conclusions) and having a "test first" mentality before we make decisions based on past experience alone.
Problem solving and troubleshooting is a favorite pastime of ours and it's one of the primary reasons clients come to us. Making excuses and finding ways around tough challenges isn't part of the culture here at Wiideman Consulting Group.
Kick the Tires – Try Before You Buy
We want to earn your business. Please call 562-732-4417 to request a complimentary 18-point technical SEO audit of your website. If our findings make a difference, we encourage you to schedule an appointment with one of our consultants to learn about the different ways we can help beyond just an audit.