Which Local Directories Matter?
There's thousands of web directories on the Internet, hundreds of business directories, and countless local business directories. So which ones do you submit to, or avoid, or prioritize?
Well, if your goal is to improve ranking in the search engines next to the map that appears in the natural search results, you're going to want to identify the directories (and other references or "citations") that your competitors have listed within their profiles. In this article, I'm going to show you how to discover your competitor's citations, give you a list of the top 50 or so web directories, and show you how to get hundreds of low-cost or free citations where they matter the most.
Extract Your Competitor's Citations
Finding out where your competitor is getting their references/citations is actually quite simple. I recommend starting with the spreadsheet we created in Optimizing Categories for Local SEO and copy the spreadsheet to a new spreadsheet in the same workbook. Delete all the categories and replace with the citations you find under More About This Place (see screenshot below).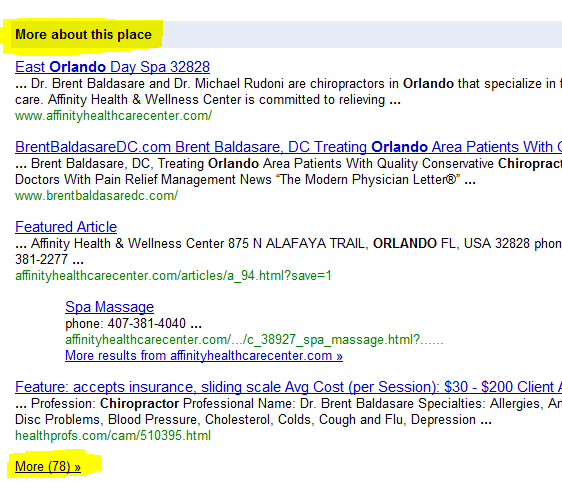 Find the pattern of similar citations by highlighting the common ones. Do some simple math to see which ones come up the most often and where they rank in the list of citations. Now go get 'em, starting at the top-ranked and most-common destinations.
Now you've leveled the competitive playing field!.
In addition to the above, below is a list of destinations you may want to submit your business and website to.
Local business directories have the greatest impact on businesses who serve their local or regional area, such as restaurants, florists, auto shops, plumbers, and so forth. However, they can also be a great source for link juice and brand mentioning, which helps with organic search engine ranking as well.
Submitting to the dozens of destinations in the list you'll find below can take days for someone unfamiliar with each destinations ranking criteria. Video networks, including YouTube.com are helping businesses get visibility in what ComScore has called the 2nd largest search engine of 2009. Most of Business Directories (not to be confused with Web Directories) also allow for video and extended business information, which means now you have three steps to think about:
Creating a useful video with business data and call-to-action
Submitting your business data and video to all the major business directories
Submitting your video to all the major video sharing websites (i.e.: YouTube)
It's important to choose a local search vendor who does a great job when it comes to understanding local search changes and responding to insure customers rank well in search engine maps. It's equally important to insure that your business information maximizes the amount of information that can submitted to each of the nearly 100 local business destinations.
Be careful because there are thousands of alleged SEO companies ripping off local businesses. I recently sat down with a friend of mine who does local directory submission to fully understand the deliverables involved with his service. Unlike the typical "your submission is complete" report, we recommend looking for a provider that actually delivers:
A spreadsheet with ever destination submitted to
Usernames and passwords for each destination
Maxed out profile data to provide as much as possible to the destination
A 30 second video created with imagery and business data
Video distribution to dozens of video sharing websites (including YouTube.com)
The username and password to a Gmail account with all the verification emails
It's definitely a time-saver and unless you request it, most local directory submission programs have no recurring fee, but do your research and consider hiring a trained resource who is comfortable and familiar with each local destination, instead of wasting days on end trying to do it yourself.
While I don't support or backup any claims of these agencies, here are a list of popular ones you can choose from:
List of Local Business Directories
I get asked for this everyday, so here's my list of the most popular Local Business Directories you can submit your business to:
citysearch.com
merchantcircle.com
yellowpages.lycos.com
directorym.com
bbb.org
switchboard.com
iaf.net
local.yahoo.com
maps.google.com
yellowpages.aol.com
yelp.com
whitepages.com
yellowpages.com
wikimapia.org
superpages.com
business.com
insiderpages.com
hoovers.com
yellowbook.com
tradekey.com
zagat.com
local.ingenio.com
mobile.yahoo.com
local.com
manta.com
zoominfo.com
dexknows.com
local.botw.org
hotfrog.com
ezilon.com
yellowbot.com
getfave.com
find.hamptonroads.com
cityvoter.com
outside.in
genieknows.com
ratepoint.com
discoverourtown.com
infousa.com
uscity.net
marchex.com
mojopages.com
matchpoint.com
wcities.com
openlist.com
accoona.com
boulevards.com
welcomewagon.com
corporate.local.com
bizjournals.com
directory.classifieds1000.com
magicyellow.com
pr.com
kudzu.com
justclicklocal.com
brownbook.net
citysquares.com
judysbook.com
pennysaverusa.com
twibs.com
sitejabber.com
b2byellowpages.com
yellowpagecity.com
localmatters.com
cityguide.com
soprano.com
localdatabase.com
ecovian.com
eztousebigbook.com
rateitall.com
localadlink.com
infignos.com
myhuckleberry.com
americasbestcompanies.com
city.com
thinklocal.com
smalltown.com
locallife.com
planetbuzz.com
citycliq.com
bluestarhighway.com
neighborsville.com
cityslick.net
yellowassistance.com
usyellowpages.com
listd.com
bing.com
corporate.localpages.com
propeller.adsonar.com
showmelocal.com
bing.com/local
brownbook.com
businessdirectory.bizjournals.com
Still want to submit manually? Make sure you have the exact business data that the major data sources have for your business before you do (you'll thank me later).
Now Let's Dominate the Maps and Directories
Start with associations. A quick Google search should reveal several associations relating to what you do. Most have directories and most will free or have a low-cost annual fee to get listed in their directory. Here's a few queries you can use:
"your_service" "association"
"your_service" "alliance"
"your_service" "federation"
"your_service" "foundation"
"your_service" "associations"
"your_service" "alliances"
"your_service" "federations"
"your_service" "foundations"
Now for industry-related directories. There's got to be dozens if not hundreds of lists and directories out there related to what you do. Here's some sample queries to run (are you putting these into a spreadsheet? I would). If you offer more than one type of service, replace "your_service" with each service you offer.
"your_service" "directory"
"your_service" "directories"
"your_service" "list of"
"your_service" "list"
"your_serivce" "index"
"your_industry" "directory"
"your_industry" "directories"
"your_industry" "list of"
"your_industry" "list"
"your_industry" "index"
Now let's geo-target!. There has to be at least 5 true local business directories in your area. Try these queries and don't forget to log the results into a spreadsheet for tracking:
"your_city" "directory"
"your_city" "business directory"
"your_city" (just do it by itself and see what comes up)
"your_city" "chamber of commerce"
"your_city" "resources"
"your_county" "directory"
"your_county" "business directory"
"your_county" "chamber of commerce"
"your_county" "resources"
"your_state" "business directory"
"your_state" "directory"
"your_state" "chamber of commerce"
"your_state" "resources"
Engage With Your New Networks
Particularly in the directories where your competitors appear, you should try to get as much visibility, reviews, opinions, friends, followers, comments, votes, subscriptions, etc, as you can. This may take up to an hour a day at first, but will eventually go down as you get good at it and start using your mobile device when you're away from the computer. Yes, there is a Yelp app for both iPhone and Droid now (think about the possibilities).
The higher you rank in these destinations, the closer to the homepage your profile gets. The closer your profile gets, the more frequently your website will be crawled and the faster your newer content will get indexed. Pages closer to the homepage in these destinations also carry higher Google PageRank™ which means these pages will pass MUCH MORE link juice to your site then that back page you started on.
Okay, you've got enough to wrap your head around. I can't believe I wrote 1,230 words on submitting to local business directories for higher ranking (at 5am PST I might add). I hope you found this content useful and will share it with others. Please do leave comments, questions, feedback, and ideas below; it's always appreciated.