Just as I whining about Google Image Search again today and ironically saw the new Sort by Subject option, it occurred to me that I had forgotten about an important topic relating to a different type of search: local search. When optimizing for a specific geography, the question always comes up, "should I optimize for service then geography or geography then service?service then geography in most cases (if you had to choose just one).
Let's Lay This to Rest
In taking several super competitive industries, specifically in the Los Angeles, CA area, we weighed the sequence of geography + service and service + geography using multiple exact match queries in the Google AdWords Keyword Planner. Services we chose included:
Locksmiths
Plumbers
Florists
Chiropractors
Cash for Gold
Pizza
Title Loans
If you're in the Local SEO industry, you know quite well that these are several of the most competitive service industries online. In fact, they are so competitive, when I decide to retire from SEO, I'm going to hire a locksmith that ranks well in the Google 3-Pack to handle all my SEO (I am 100% serious).
Here's a table of the results: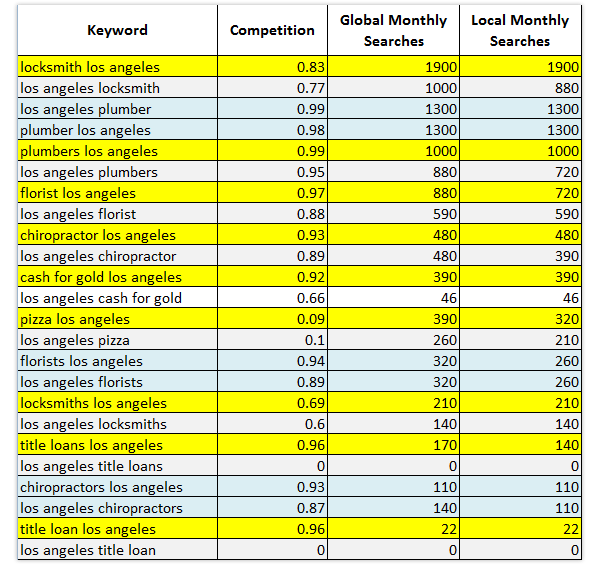 Inferences from the Data
Though I'm sure there are going to be anomalies, in our study every instance of service + geography had more search volume or tied with the geography + service, with 9 wins and 3 ties.
Since we're obviously going to optimize our HTML titles for the service + geography sequence, we should focus link building efforts on both sequences, because 2,976 possible searches for geography + service is a lot of traffic to just throw away.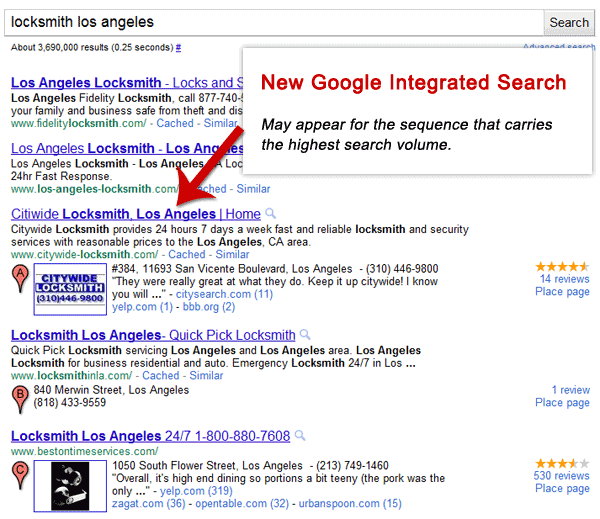 You Get Dyslexia, You Get 7-Pack
For those who still insist on searching backwards, against the grain, 7-Pack lovers, the search rebels among us, we've learned something fascinating about you. According to our research, you geography + service folks, may actually enjoy the 7-Pack much better than the new integrated search results. See below the age old universal search results: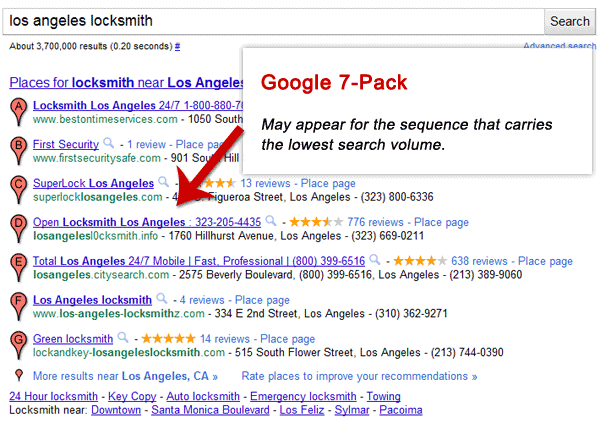 What's Your Experience?
As you start on your adventure of optimizing your titles for service + geography and your backlinks for both service + geography and geography + service, you may find other interesting data. Please let us know what your experience has been and is as you practice local search engine optimization. Please use the comments form below. Thanks for reading!