There's nothing more frustrating on the planet than having someone pay you to help them, but not take action on simple tasks that require their attention. You know what I mean, right? For you, it may be getting an approval or sign-off, or potentially you just need your client to make a decision or selection. What happens? Procrastination happens. Well, with search engine optimization it's not too different. Only there's a Catch 22 for those of us who try to go the extra mile. I'll explain below.
Before I do any SEO work for a client, I try to educate them on the 3 Basic Principles of SEO, so that they understand the importance of keyword-themed content, inbound links, and user selection within search results pages. For many of my small business clients, I might as well be explaining the theory of relativity or use the term "flux capacitor" when I explain SEO.

This whole One Page idea is something I came up with to help increase the percentage of clients who lag on delivering content after I deliver my Content Tracking Spreadsheet. Okay, here's the Catch 22: MOST smaller business clients (plumbers, carpet cleaners, etc) will NEVER touch a keyboard. I'm sorry, but it's the truth. So what do you have to do as their SEO Expert? That's right, you have to write the content on their behalf, and they will be pissed off when they discover that you actually don't know a damn thing about their industry or niche (so be prepared to receive a big fat "F" on your write up of their service or product).
Outsource you say? Nay, I think not my friend. Have you seen the quality of the content from an outsourced vendor? It's perfect for Wikipedia if you outsource to India, perfect for a kindergarten picture book if you outsource to the Philippines. You won't find any copy in the writing you get back that will convince a visitor to purchase your client's products or services. Can you say garbage boys and girls? I knew you could.
Just One Page – It's About Content
There's some screenshots in this video that fly by fairly quickly, so here they are with their explanations. The first is an example of how David Mihm's idea of coming up with "Local Ranking Factors" using leading experts as contributors was the one of the top examples of Link Bait to ever exist. This screenshot shows the thousands of backlinks this One Page earned, in part from the contributors and their fans, and in part from just being kick-ass content that all of us SEO's reference when we train and practice our craft.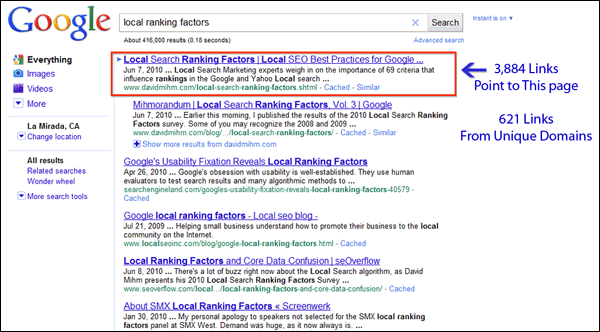 Here's a screenshot of Yahoo! Site Explorer. Domain data was provided from Moz's Open Site Explorer tool.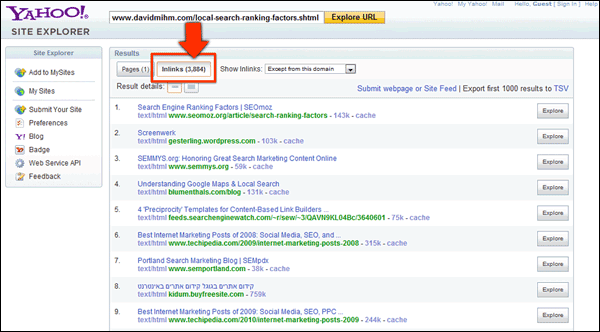 The next screenshot shows the dozens of contributors David was able to get to participate in his study. Note the one most important element from this page (buttons to make linking easier).
Then there's Mark Robertson and ReelSEO.com, the best resource on the planet to get training on SEO for Video. His videos section attracted over 3 thousand inbound links from over 600 domains.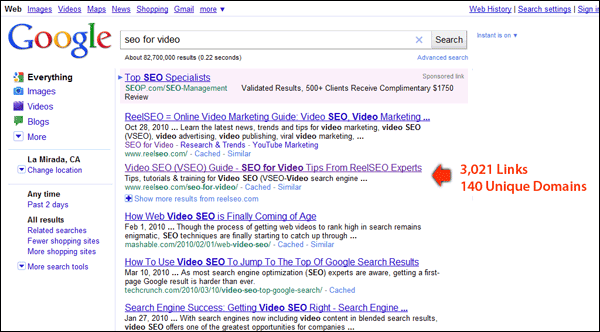 The theme here should be obvious: great content produces great volumes of organic, non-explicit inbound links, thus producing higher ranking in the search results. It also doesn't hurt to make it easy to link and/or share a page if you like it: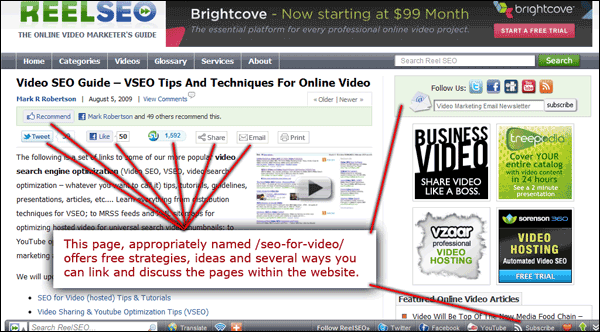 And Then Came Me
If you've been to one of my Orange County SEO Meetups, SEO Seminars, or have had a consulting session with me, then you probably remember my story about how it took over 6 months to get to the first page for the term "SEO Expert". Unlike the #2 guy at the moment, who as I understand it, is looking for ghost writers to game the system, I gave away free strategy, ebooks, tips, wrote for and got featured in popular magazines to earn my position.

Below are some screenshots of what I did on my website, beyond all the off-page SEO: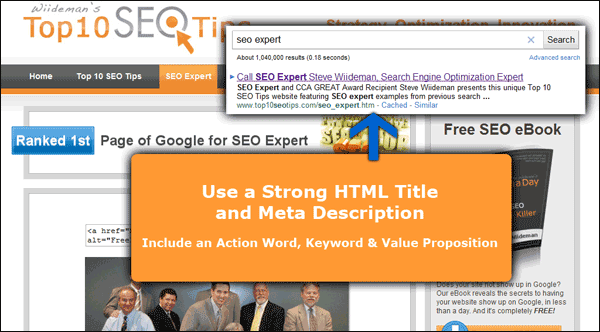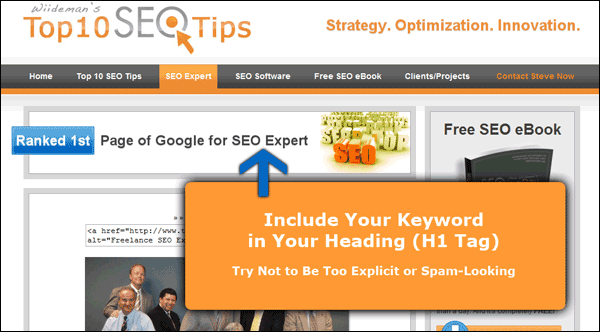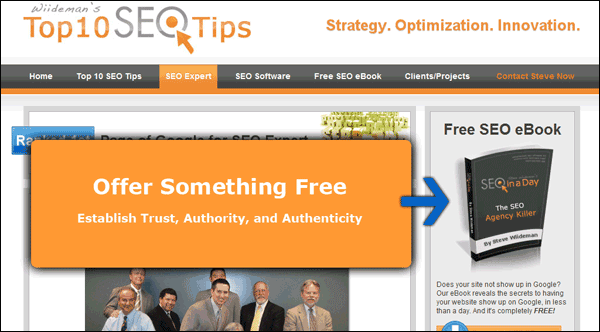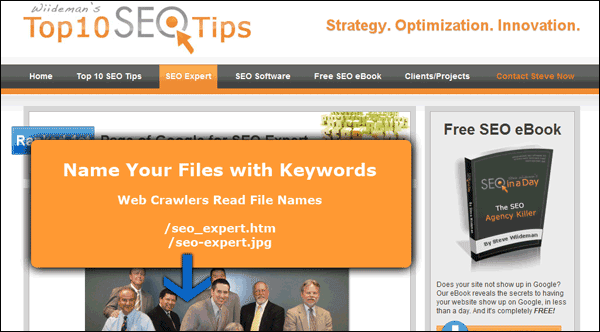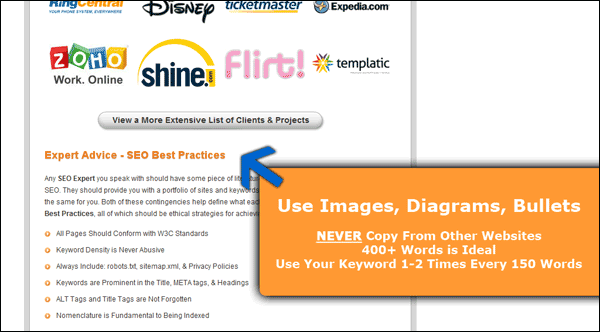 The Result? Well, at the moment, I'm still doing okay. However, it's not the RANK that's important with SEO, it's the traffic and leads. Based on this snippet of data from Google Analytics, do you think I really care that much about my rank for the term "SEO Expert" as opposed to other terms?

Can You Write One Page?
If you've downloaded our SEO Content Writing Guide, then yes, yes you can. Should you write at least one page about every product, service, technique, definition, and subpages about each of those topics? Yes, yes you should. The more "unique" content you can produce, the higher probability you will have to get ranking – so write until your hand falls off. Be sure to link to every page you create from the appropriate category on your website, otherwise the web crawlers will not have a way to access your pages, and please do not use "click here" as the link text; instead use the keyword that best describes the page.
Okay, I made some bold statements, acted a little goofy, gave you a ton of free stuff, and threw in a controversial comment about a peer. Your gears have to be spinning, so spill your guts and respond below will ya? Thanks for reading!