Skip to the 3 Principles, or continue reading:
Recently, I was quoted in an article by CNBC, where I was asked about my experience and feelings toward Google's spam quality updates, in particular: Google Penguin.
My answer likely shocked many of peers and potentially alienated me from my community, SEO's – the brilliant people who are hired to break the Google formula and get ranking for their clients.
I, unlike many, am relatively happy with Penguin and how it has improved Google's search engine results. Before I get into why, here's a quick recap of what I told Ari Levy:
He [Wiideman] says that if companies concentrate on building a clean site, producing useful content and doing outreach to business-listing services, rather than spreading links, they've got a much better shot of moving up the search rankings.

"Penguin has cleaned up so much garbage and spam created by black hat SEO companies," Wiideman said, adding that Google manages negative SEO just fine. "It's pretty easy for Google to see what is natural behavior and what is manipulated behavior."

Most of the negative SEO complaints Wiideman has heard are from small businesses that at some point hired the wrong person to try and boost traffic and ended up with a bunch of low-quality links.
Why Penguin is Good for the SEO Ecosystem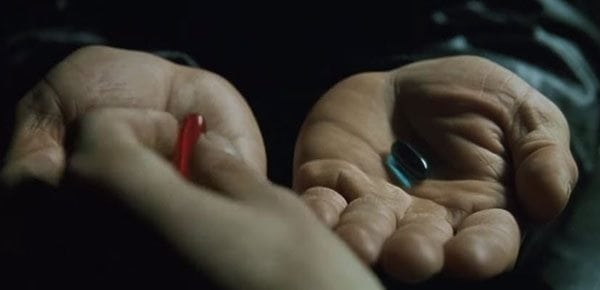 The smarter we become as search engine optimization specialists, the more vulnerable Google and other search engines become, an ending that destroys our ability to seek and find knowledge, products, and services that authentically satisfy our queries.
It's therefore critical for search engines to "shake up the virtual etch-a-sketch" once in a while, to seal up gaps susceptible to vulnerabilities, and immunize themselves from those geniuses who figure out how to push a square object through a triangular hole (results that don't deserve or belong at the top of the SERPS).
Google's next Penguin Update could be the refresh that penalizes over-linking within your own website. It could be the update that reduces or eliminates the value of any link from a page that isn't linked to itself. Regardless of it's impact, it's purpose is to penalize manipulation, and you can bet that Google knows the difference.
The Cure to Change: Working Under SEO Principles
I'm just a plain guy who drives a 2003 Honda Civic, wears jeans and polo shirts (sometimes shorts and a geeky t-shirt), and spoils my two little girls and crazy awesome wife as my leisure activity. I don't use what I've learned in SEO to make billions of dollars with search arbitrage, affiliate microsites, or anything else that involves creating content that doesn't genuinely make a difference to those who stumble upon it from an online search.
All of us SEO veterans have been through the muck of black, grey and white "hat" techniques, testing, exploring and experimenting with tactics that often become short-lived, and reap zero long-term financial gain. So many of us find our soul (and our career) in helping amazing clients operate under 3 unbreakable, never-changing principles:
Good search results are the most relevant to the person's end desire, not the keyword queried
Web crawlers feed on links that infer authority to weigh against a page's historical popularity
User search behavior is and always will be important to search engines
There's No Way Around It
Do the math, if you satisfy the first principle and build amazing, relevant content that serves a user's end desire, but fail to validate that result through organic links, references, or brand name (with keyword) queries, it could appear to search engines that you're just not as interesting as you may have seemed at first.
If you satisfy the second principle by earning seemingly authentic links, but users return to search engine results and ultimately end their quest on somebody else's webpage, it's easy to figure out that you missed serving the searcher's need and that you might not be relevant enough to hold that number one position.
Lastly, if you and your genius technology crew figure out user behavior patterns and emulate what appears to be user preference in search results, yet lack a random pattern of natural inbound links over time, you're destined to be filtered out from the SERPS altogether. And let's face it, eventually Google will catch on to your robot searches when you reboot or forget to refresh your Mechanical Turk account with funds.
Take the Red Pill
To avoid search engine penalties, we as a community must avoid anything the search engines tell us not to do. That means staying away from link schemes or anything that may appear unnatural or only created for sole the purpose of moving up in rank. As my 8-year old would say (sing), it's time to "let it go". So put away your black hat, roll up your sleeves, and take a deep breath.
Now you have a choice: take the virtual red pill and come to the reality of the work lies ahead, or take the blue pill and keep experiencing the unpredictable roller coaster of short tail search engine ranking.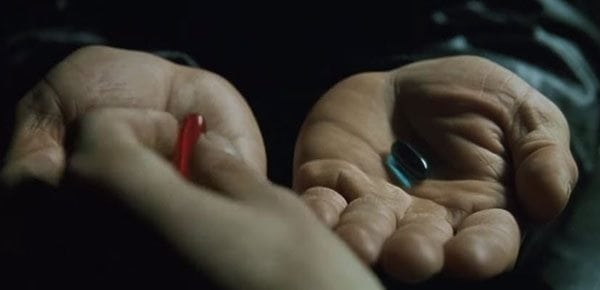 By following this new idea of search optimization, you're presented with a few obstacles, but nothing too scary. Your mission, should you choose to accept it, involves the following:
Really challenging yourself to make and keep making your page better than any other page
Building and earning relationships with people who believe in you and your brand
Monitoring and adjusting based on what is seen in search and how content is served up
Or Take the Blue Pill
If all this "Google stuff" is still overwhelming to you, don't beat yourself up. It's normal to fear what we don't know or understand. As you go back to work, I encourage you to (at a minimum) change your thinking about SEO to be that of doing "whatever it takes to rank higher", to finding a sharp person (or agency) with a great sense of ethics, who avoids using the word "links" in the interview pitch.
The worse that can happen is being eliminated from organic results and having to pay for advertising; which is still a very viable and worthwhile strategy for getting traffic from search engines (it's just not a cheap way to go about it).
Many webmasters and website marketers have a misconception of what Search Engine Optimization (SEO) really involves. They believe if their website is SEO-perfect (if there is such a thing), they will earn and hold the top position for a keyword.
The fact is, there are three core attributes to SEO and each piece plays into one another:
1. Relevance to Query (on-page SEO)
Making sure your website is search engine-friendly, with structured pages targeting specific keyword themes is the first step.
This also means that people should actually like the content enough to want to link to it, share it, buzz it, tweet it, Facebook it (huh?) and reference it in their own articles and interpretations. Ergo, content is king. You can over-optimize a website all you want, but time, trust, and popularity will be the ultimate driver of ranking. Hopefully this will explain why Wikipedia ranks so well for just about any topic.
2. Popularity & Visibility
To get to page 1 of the search results for a competitive keyword, other websites must "vote" for the page (or at a minimum, the homepage) of the target website with a natural/organic pattern of growth and themed link text variations.
For those of you have considered buying $5k worth of back links from various vendors to satisfy Google's popularity criteria, be warned. Google's PhD's have created an algorithm that detects a pulse from your online marketing activities. Like Santa, Googlebot knows when your site is sleeping and when it's awake. If your pulse suddenly increases then suddenly dies, so will whatever ranking you have earned. You'll be celebrating on Tuesday and putting your resume out on Thursday.
Earning links, mentions, visibility and brand equity takes authenticity, useful content, and enough buzz from Internet users to satisfy sustainability. In other words, don't game the system, you will lose.
3. User Choice & Sustainability
To get to the top spot on the 1st page of the search results for a competitive keyword, users must select the target webpage in the search results more than other results and not return to the search results to select a different result.
For every search conducted, an "impression" is recorded in Google's database. With every selection made in the search results, a "click" is recorded in Google's database. The ratio of clicks to impressions is referred to as click-through rate (CTR), which is by far the most important search engine optimization ranking criteria of anything else.
The only action that can void a high CTR is a high "bounce-back rate" to Google's search results, where the searcher ultimately finds what they were looking for within a different selection. Just imagine Google whispering to itself, "well, I guess that result wasn't very relevant to what they were searching for".
Don't bother paying for clicks, if the ratio of searches increases respective to the number of selections, the corresponding selection will be flagged and filtered out. Bummer, right?