Wiideman is very happy to share our latest recognition from the digital marketing industry! We were recently named one of the most reviewed marketing strategy companies in Los Angeles according to The Manifest. Our team is beyond excited to celebrate this incredible milestone with all of you.
If this is the first time you are hearing about The Manifest, then we got you covered! They are a business blog website that highlights leading businesses in the industry. Their platform also gathers and verifies the hard data, shares expert insights, and delivers actionable advice you need to build your brand and grow your business. They provide practical business wisdom that manifests into your success.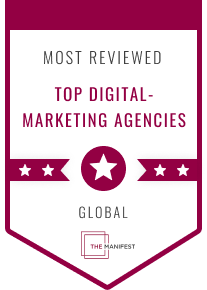 The Award: Wiideman Named a Most Reviewed Marketing Strategy Agency
Our team is truly proud of this remarkable award. We're thrilled to celebrate and share this meaningful recognition for the number of outstanding reviews and ratings we've received. This award really signifies the hard work and perseverance of our team to deliver high-quality results and solutions for our clients.
Of course, this award wouldn't have been possible without the help of our amazing clients! Thank you for taking the time to publish reviews about your experiences with our team. We are grateful for all the love and support throughout the years.
In addition to our services, we invite you to check out our digital marketing podcast! Listen and view today.
Interested in working with us? Call our office today and we will make sure to get back to you ASAP.