On July 24th, 2014, Google released an update the industry has code named "Pigeon", which affects search engine results with a regional or local intent. Examples of queries might be "oil change York PA" or "auto repair" alone where the search engine recognizes the location of user and returns local businesses in the results. Pre-Pigeon Update, results where highly data driven, where today Google uses a greater number of organic ranking signals, such as user behavior (typically affected by mobile-friendliness and over all user experience, among other things).
At it's core, local search engine optimization (#LSEO) involves data accuracy, data visibility, online reputation (reviews) and, more than ever, landing page optimization to achieve maximum visibility within search engine results. Today, we're going to briefly look at two templates used specifically by the auto repair industry to appear within organic listings (the city level page or CLP) and within Map "packs" (the property level page or PLP).
A location with placement in organic and Map Packs has double the real estate of competitors. Add on strong paid search (PPC) and barnacle SEO strategies, and one location could dominate the above-the-fold area within any given search engine.
Auto Repair at the City Level (CLP)
As mentioned above, the purpose of the CLP is appear within the organic search results for a product or service with a regional user target. Below are examples of the desired results for auto repair related searches (you should be familiar with these).
Desktop result:

Mobile Result: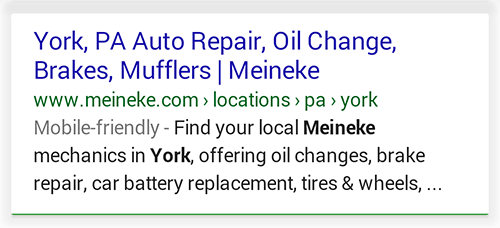 Landing Page Example (CLP):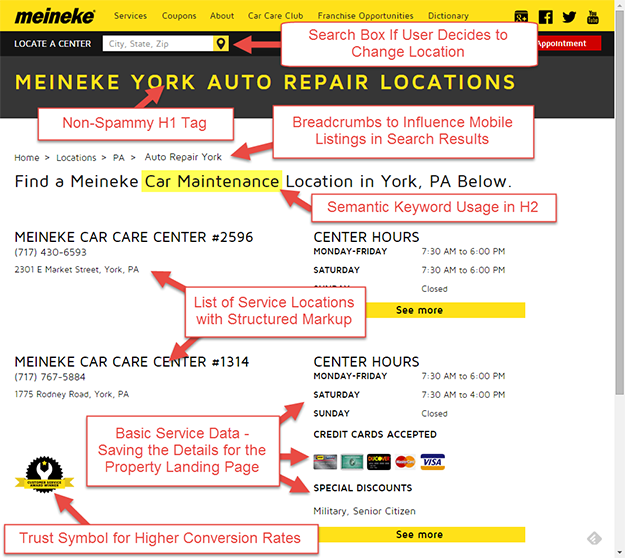 Other CLP Examples in York, PA: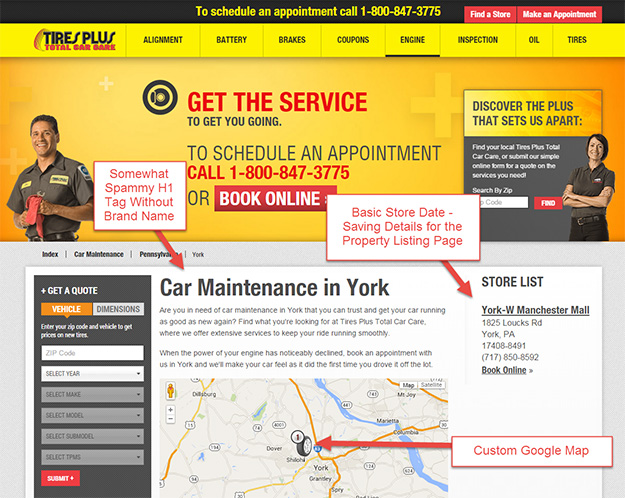 While AutoMD isn't an auto repair franchise with physical locations, they are "eye competition", appearing on the first page of many service-oriented content burying actual brands with their obvious SEO efforts.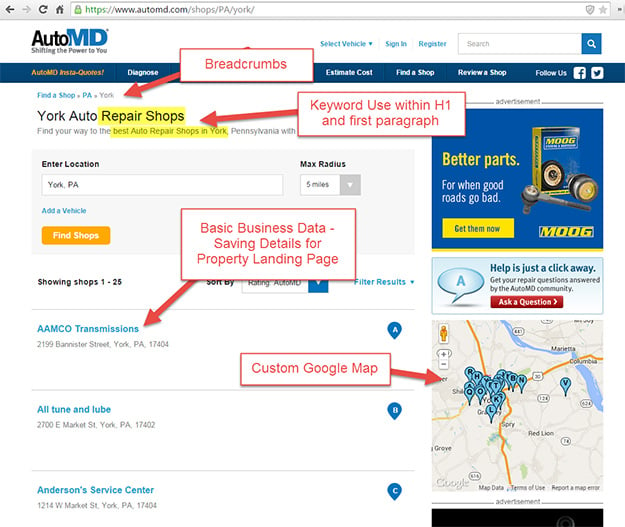 These examples don't account for the many local search ranking factors, and due to the high competition in the auto repair space, are often over-optimized and spammy in nature. However, they are paramount to the success of any local SEO strategy when you consider the evolving Google Pigeon Updates and the need to rank outside of the Map Packs, placement absorbed by the property landing page, which we'll review next.
Our Favorite CLP's
When asked how a City Level Page is supposed to be organized, we like to reference the following examples (none of which are in the auto repair industry):
Property Level Pages (PLP)
The target for the Property Landing Page is the individual store, center, or location, not the city or region.
Earning higher placement in the ever-changing Map Pack, Carousel, Snack Pack (or whatever you want to refer to is as) remains highly influenced by proximity, particularly for mobile users. However, with the right planning and ongoing attention to the factors listed below, Google can detect patterns of growth and move up a listing over time. Those factors include:
Data Validation (InfoGroup, Acxiom, Localeze, Factual)
Land Page Relevancy & Usefulness (see below)
Data Visibility (Search Engines, Social-Local, Business Citations)
Online Reputation (Ratings, Reviews, & UGC Freshness)
What a PLP Looks Like in a Search Result

PLP on a Mobile Device: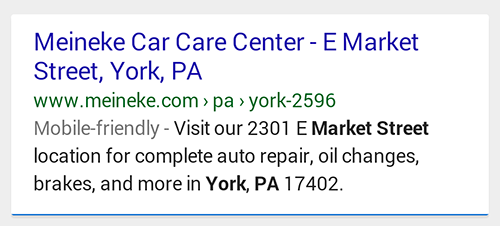 With ranking driven in part by a match in name, address, and phone number on the landing page as it's found in business directories, we'll use this example of a location as a business citation example as well. Because we're talking about a specific business location, not a city or regional page, the example below refers to this Meineke Center (note the N.A.P. & URL usage):
Meineke Car Care Center
2301 E Market Street
York, PA 17402
(717) 430-6593
https://www.meineke.com/locations/pa/york-2596/
What a Property Landing Page Looks Like
Above the Fold: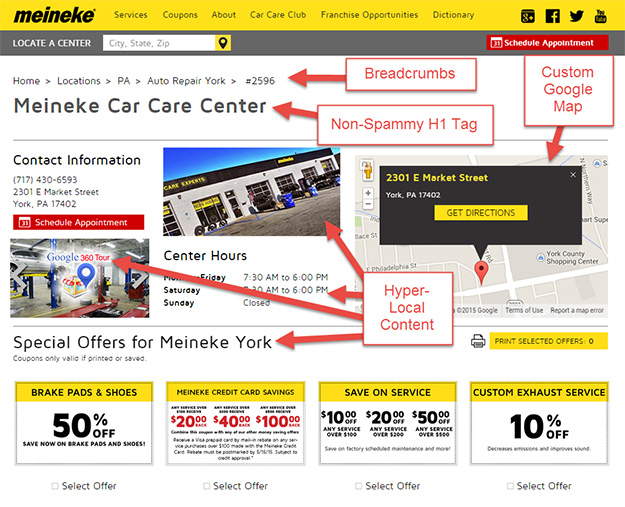 Below the Fold: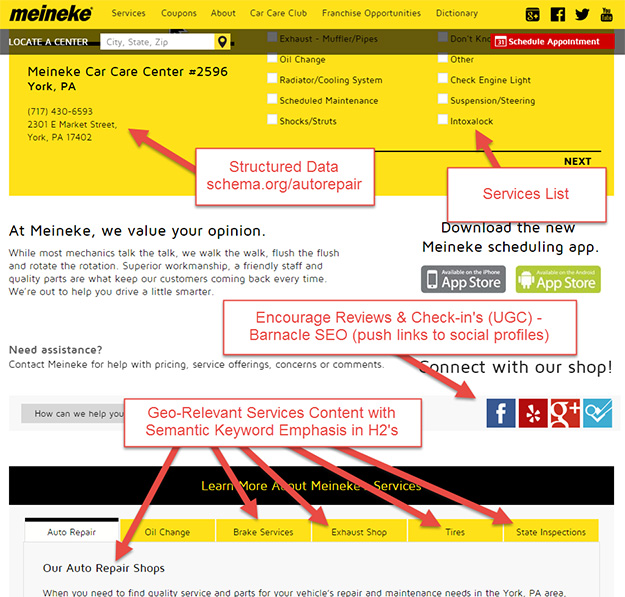 Other Examples: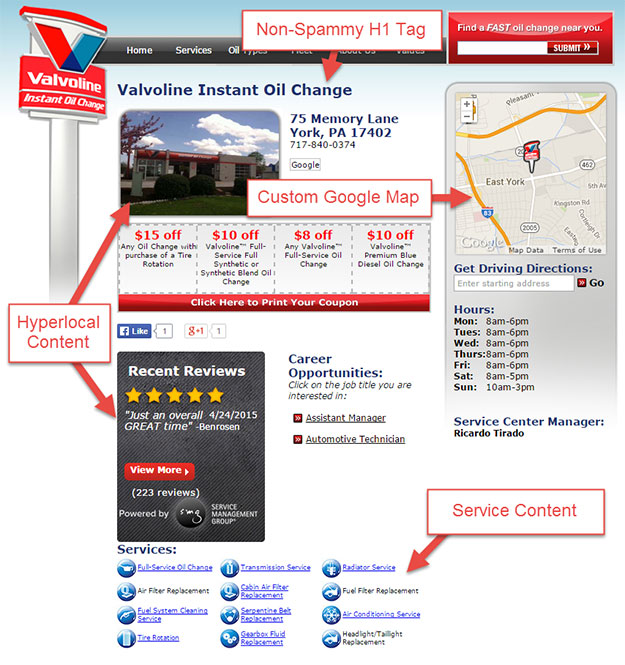 JiffyLube and AAMCO take an extremely hyper-local approach toward search through the creation of "micro-sites", unique domains meant to spam search engine results, creating a confusing experience for Google users who aren't sure which listing they should be clicking on to get to the "official" website. Example: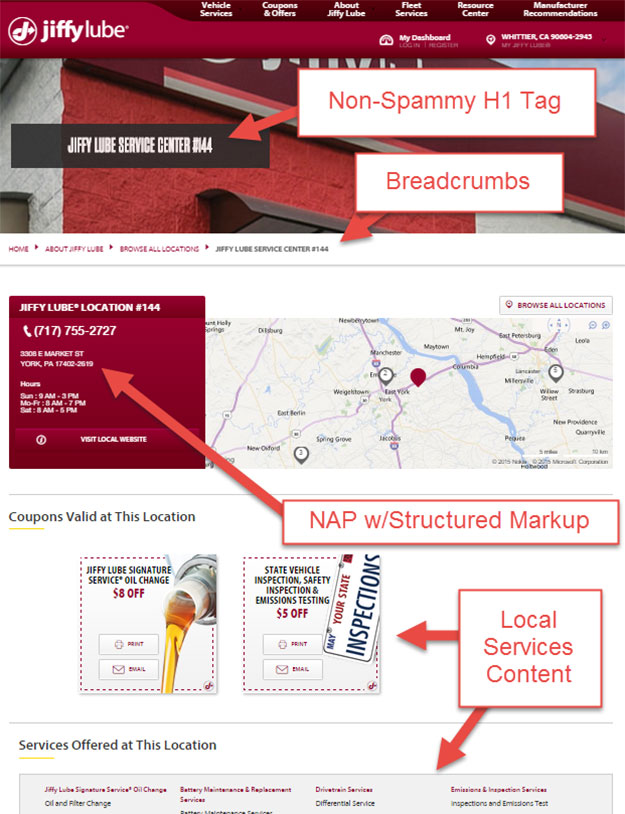 We did find rogue Meineke micro-sites as well, but could not identify the parent corporate website linking to them or any instance of search engine listings pointing to them.
Other Considerations
At the end of the day, business owners still appear to not be convinced of the value of CLP and PLP optimization for users and allow for just enough budget to squeeze in keywords and bare bones content. However, as SEO's, we know for a fact that these business owners search for their service keywords religiously in Google and expect top placement for each variation of every service keyword in existence.
This could be why social-local destinations such as Yelp are appearing more often and frequently out-ranking brands in local search engine results.
As Google improves it's algorithm to focus more on user behavior signals, one can only hope that the SEO's out there will use the change to advocate for a user experience that looks professional, offers genuinely helpful information, while guiding the user to events or actions that results in new business for franchisees and location managers.
One can only hope.
Got Any Good Examples of CLP's or PLP's?
Share your favorite example of a city landing page and property landing page in the comments below, but be sure to explain what is you like about the page and for what query the page appears for. Thanks for reading!