Earning higher placement within Google search engine results can be an exhausting endeavor for many local businesses that serve a specific area or region. A business can dominate search results with a well-planned out strategy that includes:
The secret sauce of these four elements? Data claiming; and I'll show you why in just a moment.
The Rapid Decline of the IYP
As Internet yellow pages (IYP's) continue down the path of extinction, a greater part of inbound Web traffic is arguably going to come from Google, and from their universal search results such as "pins" you might see shoved into the first page results. Call me on it by checking your own Web analytics traffic statistics.
Below are example analytics taken from a national franchise showing Google as the leading source of Web traffic below: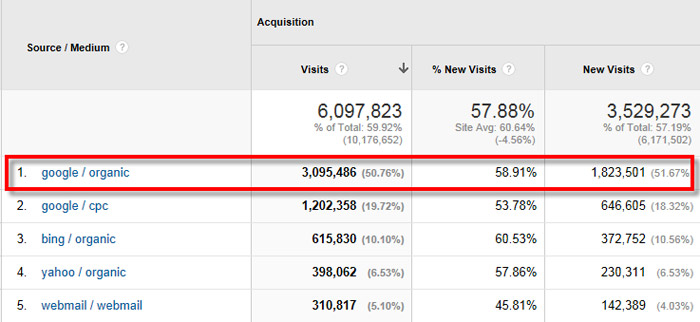 Therefore, smaller businesses must go head to head daily to earn that top position, or throw in the towel and work for someone with a smart SEO specialist on staff.
You can listen to the naysayers who suggest not relying on Google all you want to, but the reality is that organic search traffic is the primary medium with the lowest long-term cost, and the least amount of effort required (if done wisely).
Business Data Claiming
So why exactly is claiming your business information so important?
Simple: Search engines and business directories are founded on having accurate data about your business. Many websites purchase their data from third parties called "data providers," and perform routine database hygiene to ensure they are sharing the most up-to-date information possible.
If you didn't already catch on, this means data providers sell your business information to websites all over the Internet.
These listings may later on be sources of relatively free referral traffic for life. If you're lucky, you'll reap the local SEO benefit of having thousands of instances of your data for Web crawlers to find and to add to your business's virtual "popularity bank account" used in their ranking algorithms.
The Nucleus of Local SEO is Data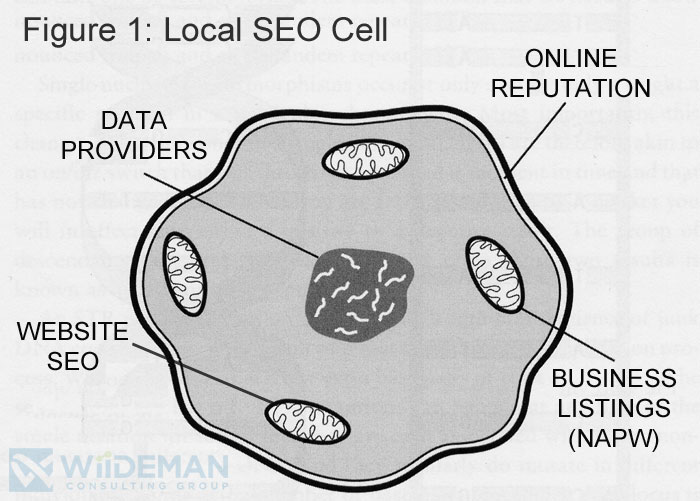 The diagram above shows data providers as the nucleus of ranking for a local or regional search result, which may in fact be as simple as claiming your business information in these four databases:
Be prepared to upload or fax in paperwork proving you are, in fact, the owner. You might want to verify your zip code since we want to be accurate out of the gate.
Also take a few minutes to research the best SIC codes to use before you start the submission process.
I like to see who ranks in Google with pins/maps next to them and explore the categories the top three or four elected to use. This way, when I submit my SIC code, I'm properly aligned with the competition.
Using a Third Party to Do the Dirty Work
Despite how expensive each of these placements might seem, many third parties offering significantly lower pricing will actually suppress your business data if you decide to stop paying them (I call this "business hijacking"). My advice: just claim your business information yourself and never worry about agency extortion.
If you do decide to let your local SEO agency submit on your behalf, be sure to require proof of submission, not just a time, date, and who submitted your listing report, but an actual extract from the data provider showing the "Add."
TIP: Keep your information consistent whenever submitting to a database, search engine, or business directory. This means if you use Blvd instead of spelling out boulevard, always use Blvd. If you use Unit #, always use Unit #, not Unit No. or Unit Number spelled out. This ensures that Web crawlers will find, catalog, and match the information, and tie each one into your local ranking.
Once your data is claimed and confirmed with data providers and search engines (mainly Google Places, Bing Local and Yahoo! Local), you can start focusing on the other three focal points of local search engine optimization, beginning with your website.
Website SEO for Higher Local Ranking
Google seems to give preference to businesses that list their location information prominently. If you have a single location, simply add the business name, address, and phone number (NAP) to the footer of your website. If you serve more than one area, consider creating a main locations page with a map and links to individual pages for each location.
Here's an example of how SKECHERS handles location pages, while also including a code to track referrals offline, a smart thing to do if you're spending any time, money, or energy or local SEO.
Feeling gung-ho? Have your webmaster add some extra coding around your address called schema. Here's a tool I like to use that might help, but there are plenty in Google if you search for "local business schema generator".
Think Local, Think Mobile
Nearly half of all location-based search results are said to come from a mobile device. Whether that's true or not, my data is enough proof for me that I need to think about users on smartphones and tablets.
Notice how 40% of traffic to a franchise's website comes from mobile devices and tablets: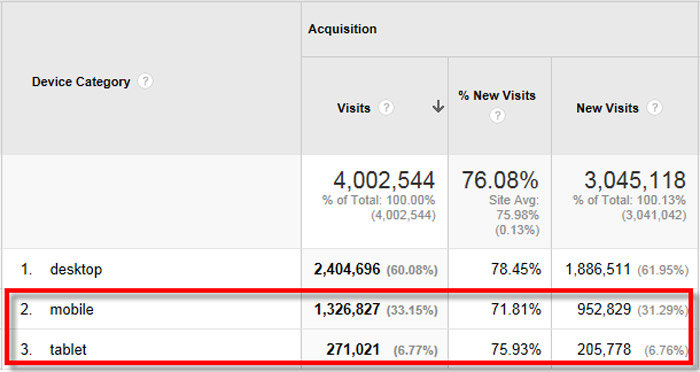 The days of having both a desktop and a mobile version seem to be dying with the IYP's. Instead, webmasters are creating one beautiful website that responds to any device and any browser width. A favorite portal that showcases this new way of designing for the Web is mediaqueri.es (if you're thinking of sending your webmaster some examples).
Nifty Marketing came up with an excellent local landing page infographic that I refer to often when discussing best practices. Send that along to your webmaster as well.
Smart Business Listings
For those who claimed their business information with the data providers listed above, you may have opted into a program or two to automatically handle general business directories, which are fine, but definitely not all you should be doing in terms of improving ranking with business listings.
Smart business listings, in my experience, are those that have a regional and/or industry-focus. Moz.com offers a neat tool called the Link Acquisition Assistant that may help get you started. Or you can take a few minutes on your own to perform Google searches for:
"your_city" "business directory" (example: "Anaheim" "business directory")
"your_industry directory" (example: "plumber directory")
Both 1 & 2 but with "association", "collation", or "member directory"
Use synonyms for directory, such as "listings." The point here is to make sure you are listing your business in an actual regional directory such as thecityofsandiego.com, as opposed to sandiego.somedirectory.com.
Set a goal of one new smart listing per week (four per month) so as not to raise any flags with search engines for doing too much too fast, which might be perceived as trying to game search rankings. Always try to appear to be growing naturally over time.
Online Reputation
In the local SEO industry, reputation is less about RipOffReport.com and Glassdoor.com, and more about business ratings, reviews, and "check-ins," since most users search by keyword, not by brand name. A keyword might be "plumber in Anaheim, CA" for example, returning two natural results followed by seven listings with Google Map pins next to them.
You see, if a Google user has seven choices that all look appealing, they are likely to choose the result with the best reputation (or a mix of the quantity of reviews and the overall star rating). Enough activity of users not selecting a listing can signal the search engines to stop displaying the result altogether.
In other words, growing positive reviews over time by being awesome at what you do can impact your longevity within search engine results, and vice versa. Earning Google reviews is therefore paramount to your success in local SEO.
Even though it's against Yelp's guidelines to ask for reviews, the fact is you need them, since Yelp seems to dominate a massive percent of search results. One technique I've noticed local businesses using involves finding active Yelp users in their area who have had a poor experience with a competitor and offering up a discount to give their business a try.
Example: "We're sorry you had a poor experience with that office. Schedule an appointment from our Yelp profile if you'd like to give us a shot next time you need a teeth cleaning in Anaheim." Other users will see the promo as well, so be prepared for some additional referral traffic.
Inactive Yelp users tend to have their reviews filtered out, so it's probably not worth your time telling everyone to review you on Yelp anyway.
Winning at Local SEO
As you can see, local search engine optimization is not rocket science, but does require accepting the fact that business data claiming is the nucleus of regional marketing, followed by website focal points, and gradual improvements in smart business listings and reputation.
To become more proficient in local SEO best practices, consider studying the most recent Local Ranking Factors Survey, following the local SEO topic on inbound.org, and subscribing to the local SEO blogs of Mike Blumenthal and Andrew Shotland.
You might also consider creating and following a Local SEO Google Plus Circle, Twitter List, or using advanced search tools to search for the latest and greatest in local SEO across all popular social networks, such as YouTube, Facebook, Twitter, and more.
Keeping up with local search engine optimization is the best way to stay ahead of the competition and to protect your business from radical changes that might be coming soon from Google and other search engines. As an SEO specialist, you can't always predict what's going to happen, but you can absolutely be the first to know when something does.