One of our favorite exercises is tracking social and viral campaigns by other companies and testing the effectiveness of each (as best as we are able to).
Today, a friend of ours from the local SEM services company Local Splash send us an email stating they had seen us on a video where Steve Wiideman won a sweepstakes sponsored by Celebrity Apprentice. Reading the subdued fine print at the top of the email, we knew right away it was a hoax.
Turns out that it was a viral campaign for LifeLock (but not by LifeLock), the identity protection company you may have heard about on the radio. The idea is for millions of people to send the email to each other to raise awareness for the company and the brand. Of course, TheGlobalTribune.com campaign page will definitely be getting the bulk of the traffic and can now be re-purposed for additional viral and social campaigns.
Here is a screenshot of the page, where you can see how the marketing company embedded Steve Wiideman's name as the winner of the LifeLock Celebrity Apprentice Sweepstakes.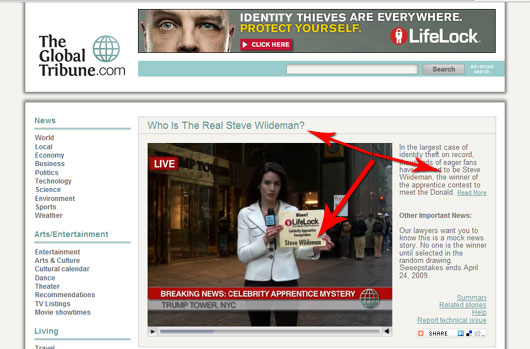 As with many other campaigns, we'll be watching to see how the traffic improves for LifeLock and the Global Tribune. This type of marketing worked really well for OfficeMax with their "Elf Yourself" campaign. Let's see how far the Celebrity Apprentice Sweepstakes for LifeLock goes. They currently stand at about 288k unique visits, with a Compete.com rank of 7,293. We'll check again in a few months and see the results.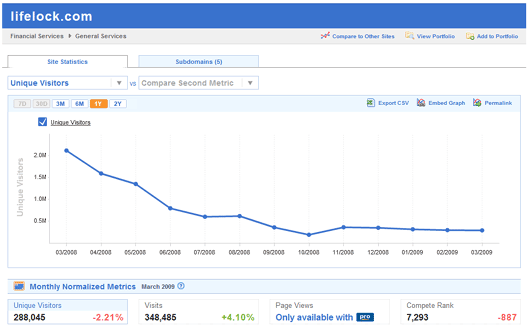 Lifelock Celebrity Apprentice Results
Thanks for the nudge Nataliya, I got so involved in today/tomorrow, that I neglected yesterday and subsequently this study. Take a look at the Compete.com data below. You'll notice that they drove potentially 300k additional visits (doubled the traffic) in month one. Then take a look at what happened. Not only did they plummet back down to earth, they dropped to their lowest volume of the year: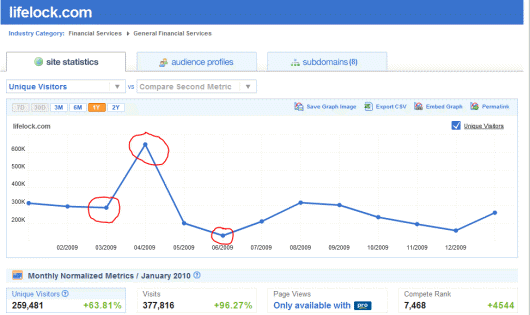 I suppose that's the risk and ultimately the conclusion of what Viral Marketing could produce. If it takes off and becomes truly "viral", the search engines will track the trend and give juice to the bump in popularity. If your VM campaigns fails miserably, the sudden drop in visibility could be a negative sign to the search engines that you may have been trying to manipulate ranking or that you are suddenly very unpopular and might not be a good search result.
Hope you enjoyed this study as much I did. I would like to hear from Lifelock if they are out there and reading this (I'll tweet them) to see what they'd be willing to share. I'd have to guess that not disclosing their campaign results would fall in alignment with the nature of the company's business model (protecting data); but who knows?