Wiideman Certified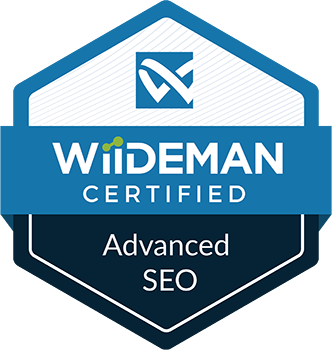 If you have seen this badge then you can be assured you are working with an SEO company that has been trained by some of the best!
What it Takes to Get Certified

To get certified by Wiideman in "Advanced SEO" it takes some pretty intense training. Get your coffee ready! =)
These companies that have taken the challenge and succeeded can use the Wiideman Certified badge on their website.
The training is broken down into 3 sections:
Technical SEO & Tools to Us
Keyword & Taxonomy Research
Outreach & Content Marketing
Technical SEO Training
The technical SEO training is broken up into three topics:
SEO Fundamentals – Overall Understanding, of the SEO pieces fitting together & Tech SEO Audit Process – Auditing a site to go through the entire process.
Tech SEO Audit – Our Complete Audit Process – Auditing a site to go through the entire process.
Performance Tracking – Process and tools to use to monitor your specific KPIs.
Keyword & Taxonomy Training
The keyword and taxonomy training is broken up into five topics:
"Inspect Before You Expect" – How to do a "Full Site Export" and organize what we have and what we don't.
Pulling Data – Going through the process of what competitors URLs and what tools to use, the starting point and the data that is pulled is very important.
Organizing the Data – Setup by step, row by row, we go through how to take data and organize it into "bucket lists" of topics by intent.
Creating Keyword Outlines – The process of taking our keyword buckets and turning them into outlines ready for content writers.
Creating a Taxonomy – Taking the learnings from the Full Site Export, Competitors, and Keyword Research, building out the website taxonomy.
Outreach and Content Marketing Training
The outreach training is broken up into three topics:
Outreach Process & Advanced Practices – How to approach outreach and what is takes to be successful. The best tools to use and trained to get the most out of outreach efforts.
Link Analysis Report Training – Our complete Link Analysis process from isolating and dealing with potentially toxic links to isolating opportunities for outreach… aka link building.
Outreach Efforts – Setting up and using tools for daily outreach efforts.